Vegas banners 89109 tradeshows is a great place to start for trade show signs and banners. Every year hundreds of trade shows and conventions take place in Las Vegas . Las Vegas has three very large convention venues for these events. The most popular one is the Las Vegas Convention Center. There is also the Mandalay Bay Convention Center and the Sands Expo. All three of these venues have well over one million square feet of display space to hold the biggest and best trade shows and events. So these venues are so large that they can actually have several different events take place at the same time. All these facilities are modernized and state of the art.
So many Las Vegas signs and banners are needed for these events. Vinyl sign banners are very popular . Because they are so affordable. There are also retractable banner stands and foam core board signs that are used a lot at the different events. The banner stands are easy to set up and can be placed anywhere because they are self standing. The foam board signs are considered temporary signs and can be placed on easels for display.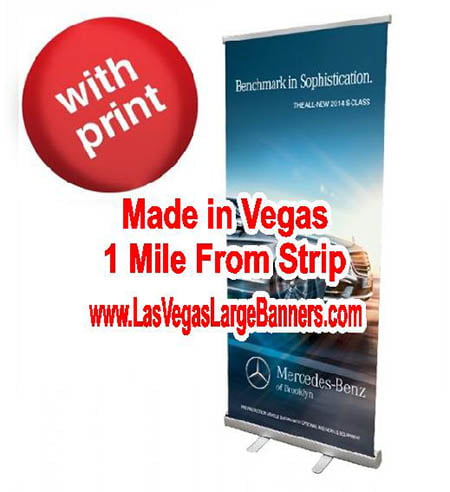 Same Day Vegas Banners 89109 Tradeshows
Many times trade show signs and banners are needed quickly. Most vendors and companies displaying at the event venues prefer to have their signs and banners made in Vegas. So not only does this save on shipping costs, it also allows for peace of mind. So many times signs will get damaged during the shipping process or not show up at all. By having the signs made in Vegas it alleviates all those concerns. Many sign companies in Las Vegas offer same day sign printing. These sign shops that offer this services are usually close to the convention venues and Las Vegas Blvd. This allows for fast pickup and delivery of trade show signage.