Vegas banner stand sign displays are one of the most popular types of signs being used at the events and shows. The vendors and companies who are showing off their products at conventions and trade shows love these portable signs. The banner stands are self standing. So that allows them to be moved around your display booth with ease. Since room is tight in these display booths. Having a sign that you can easily move around is refreshing.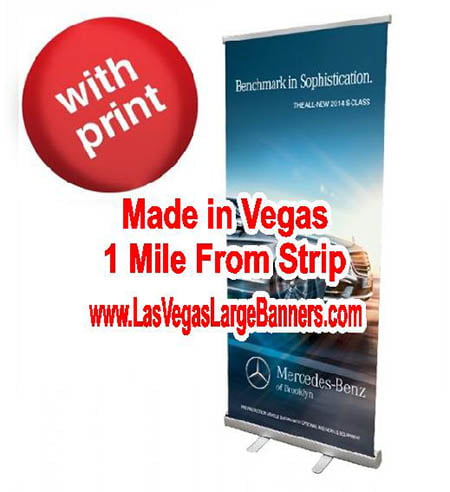 Vegas Banner Stand Sign Displays Come In Many Sizes
The most popular size roll up banner stand is the 33″ x 78″ banner stand. This banner stand comes with a full color graphic and a telescopic height adjustment pole. The telescopic pole adjusts the graphic height. So that you get the perfect look to your banner stand. The full color graphic allows many colors to be printed on your retractable banner stand. Many vendors and companies displaying their products at these events will have pictures of their goods printed on the pull up banner stands. So this allows for people passing by their display booths to see what they are selling. It creates interest and makes sure you get noticed.
The tradeshow banner stands also come in many other sizes ranging from about 2ft wide to around 5 feet wide with varying heights. The banner stands are self adjusting. So that means you do not have to have a full sizes graphic. As the banner stand can adjust its height. The tradeshow banner stands also come in premium and economy models. The premium banner stands have a wide chrome base that is very impressive looking.
All the banner stands come with a carrying case for easy transportation. The banner stand signs are easy to set up and can be ready to go in two minutes or less. So this makes them a very popular sign display.