Vegas background banner signs are being used at night clubs and high end entertainment facilities. Tourists love to take selfies in Vegas. So these backdrop banners provide an opportunity for selfies. The night clubs will place their names and logos on the banner. So that from any camera angle the logos and name can be seen in the background. The tourists take these pictures back home and show off to their friends. When the friends visit they go patronize the same night clubs. The sign banners can be made with vinyl 13 ounce banner material or fabric banner.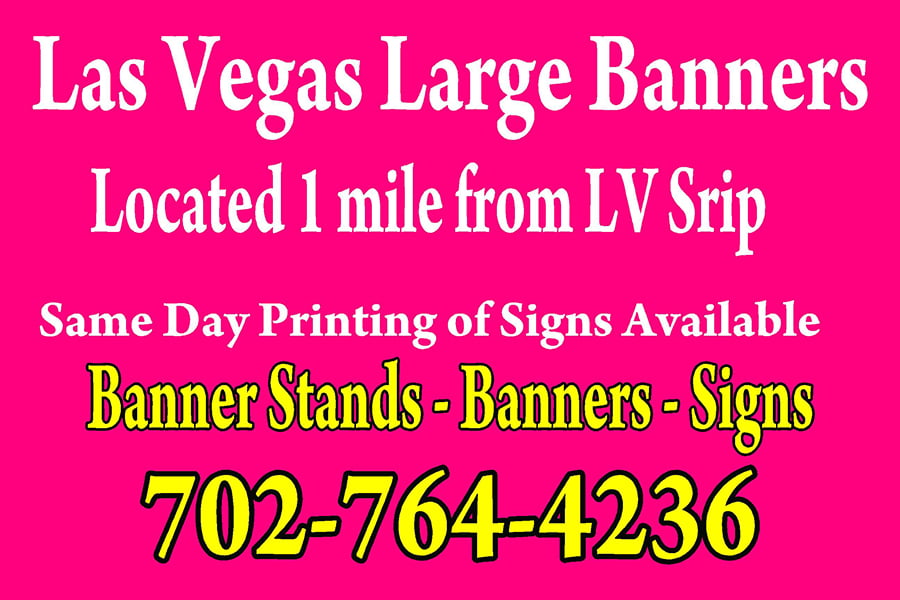 Vegas Background Banner Signs are also used at Conventions
Large step and repeat banners are used at conventions and trade shows in Vegas. The vendors and companies like to have these large banner signs cover the back of the booth. So when people walking by look at their display, they can read the banner and learn more about the companies products and services. Also when sales people are giving presentations. They can use the large backdrop banner signs as a point of reference.
Backdrop banners or step and repeat banners are printed on a 13 ounce vinyl banner material. They can be finished with a hem and grommets placed on all four sides. Alternatively, they can have 2.5″ pole pockets placed at the top and bottom so that they can be displayed with a pole. A pole would go through the top pocket and bottom pocket to hold the banner tight and straight.
Fabric backdrop banners are printed on a polyester material that allows for a wrinkle free appearance. This fabric banner sign can be machined washed and used over and over again. The cost of fabric backdrop banners printed in full color is about $5.00 a square foot. You can have logos and pictures painted on your large banners as well.
Conclusion
Many vendors and companies coming into Las Vegas prefer to have their convention signs and banners made locally in Vegas. So this saves a lot of money on expensive shipping charges. It also guarantees your signs and banners will be in Vegas when you are. So often the shipping carriers lose or damage signs in transit. And then the convention signs and convention banners need to be replaced at the last minute. Often causing scheduling issues and a lot of stress. Contact your local Vegas sign store for more information