Vegas 8ft backdrop banner signs work great for the events and shows held in Las Vegas. The vendors and businesses who display at these events like these backdrop banners. The businesses will print pictures of products and services on the large backdrop banners. So this way as people walk by they can see what you are promoting. This works really well when your sale representatives are busy with other customers and people walking by need help. These people will stop and look at the trade show backdrop displays. So this gives the sales people the opportunity and time to speak with them. After all, this is why you are at the events. You want to speak to interested people and garner attention to your company.
Las Vegas banners and Las Vegas signs are needed for the many trade shows and conventions. Las Vegas is a major destination for events. So not only does Las Vegas have three very large convention venues with over one million square feet of floor space. Vegas also has the infra structure in place for hotel rooms, restaurants and all sorts of amenities. So many signs and banners are needed for all these events. Fortunately there are many sign shops in Vegas that have modern sign making equipment. This sign making equipment allows for fast sign printing and cheap priced signs. However, these state of the art printers print with amazing quality. The inks used are ecologically friendly and are bright and bold in color.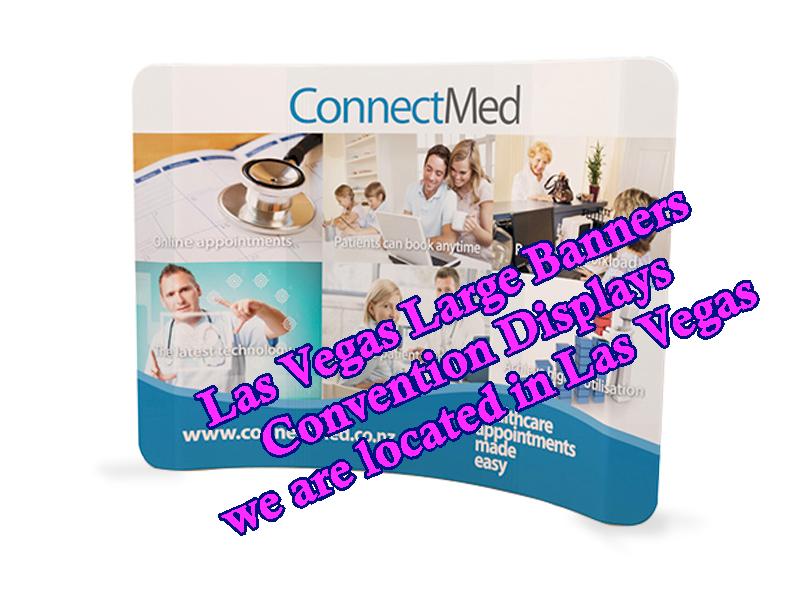 Vegas 8ft Backdrop Banner Signs Come In Many Sizes To Meet Your Marketing Needs
Las Vegas trade show booth display signs come in many sizes. The most common size is the 8ft tradeshow display sign and the 10ft trade show backdrop display sign. The backdrop signs can be purchased as a complete kit or in pieces. For example, a 8ft banner can be bought and then displayed with an adjustable banner stand. These retractable banner stands adjust up to 8ft tall x 10ft wide.