Vegas 24hr standup banners are used extensively at the various events and shows in Las Vegas. So there are hundreds of events and shows in Las Vegas yearly that attract millions of visitors from around the world. Hundreds of companies and vendors display the newest products and gadgetry at these events. So these vendors and companies need lots of signs and retractable banner stands. Many times they need the standup banners fast.
So many companies and vendors come into Las Vegas and rely upon shipping companies to ship in their graphics. Unfortunately the shipping companies will lose or damage the sign graphics. The damaged and missing signs are discovered right before the event. Same day sign printing is needed to make these signs ready for the event. So there are a few Las Vegas sign shops that offer 24hr sign printing. These sign shops are generally near the show venues. So this allows for quick pickup and delivery of your signage.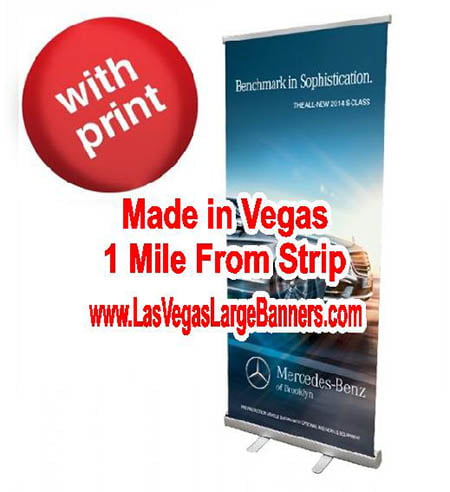 Vegas 24hr Standup Banners Come in Many Sizes
Retractable popup banner stands come in many sizes. The most widely used banner stand is the 33×78 banner stand. So these banner stands come in widths all the way up to around 45″ wide. The heights vary from 78″ tall to around 96″ for the deluxe models. All the retractable standup banner stands come with a full color sign graphic. This sign graphic can have as many colors you want printed on it. So you can also have pictures and logos printed on the graphic as well. The banners stands come with a carrying case and telescopic pole for height adjustment. This telescopic pole allows you to set the banner stand at the perfect height.
Your sign shop near the Las Vegas strip will be able to answer more questions about these wonderful banner stand signs.