Upright banner stand displays Vegas are used very frequently at the trade shows and conventions. Casinos also like to use these retractable banner stands inside their casinos for advertisement. Pull up banner stand displays offer an excellent solution for capturing attention and maximizing brand impact at trade shows, conferences and events. So in this blog post, we will explore the many benefits of using Vegas banner stand displays in the vibrant and competitive landscape of Vegas.
One of the primary advantages of upright banner stand signs is their versatility. These Vegas signs come in a range of sizes and styles. So thus making them adaptable to different promotional needs. So whether you need a compact display for a small booth or a larger one for a grand event. Retractable banner stands can be customized to suit your requirements.
Additionally, these stands are incredibly portable, allowing for easy transportation and quick setup. In a city like Vegas, where events are frequently held in various locations. The convenience of portable displays cannot be overstated.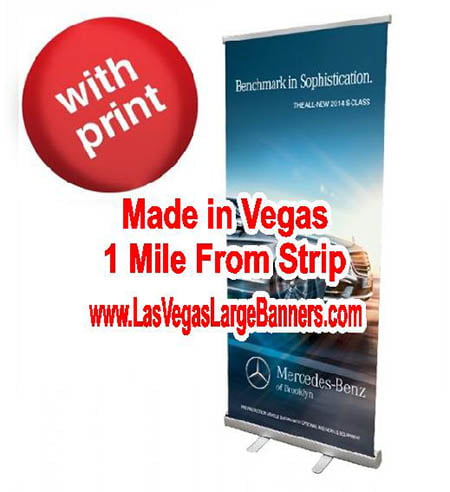 Banner Stands Are Great For Visual Effects
Vegas is known for its dazzling lights and extravagant visuals, and businesses need to match this aesthetic to grab attention. Upright banner stand displays offer a perfect canvas to showcase captivating graphics, striking images, and bold branding elements. When designed creatively, these banners can effectively draw visitors to your booth or storefront, leaving a lasting impression on potential customers.
Marketing in Vegas can be expensive. But roll up banner stands provide a cost-effective alternative. Compared to more elaborate marketing strategies. Investing in banner stands is budget-friendly, making them an ideal option for businesses of all sizes. Moreover, these banner sign displays are durable, allowing you to use them repeatedly without incurring additional expenses.
In a city that never sleeps, businesses face fierce competition for attention. Upright banner stand displays offer a valuable opportunity to increase brand visibility in crowded settings like trade shows and events. Placing your logo, key messages, and product offerings on a properly designed banner will help reinforce your brand identity. And make it more memorable to potential customers. Your Las Vegas banner stand can be printed in a multitude of colors that are bright and vivid.
Las Vegas Banner Stands Can Be Made Many Different Ways
Modern upright banner stand displays can be more than just static visuals. By incorporating QR codes, augmented reality (AR), or near-field communication (NFC) technology. You can create interactive experiences for visitors. This interactive element not only engages your audience but also provides a platform to share additional information about your products or services, giving you a competitive edge.
Vertical banner stand displays are not limited to trade shows and events alone. They can be strategically used in various settings, including retail spaces, office lobbies, seminars, and conferences. By adapting your Vegas banners to different environments. So you can maintain brand presence throughout Las Vegas.
In a city renowned for its entertainment and extravagance. Using retractable banner stands can help your business make a significant impact. From their versatility and portability to eye-catching designs and cost-effectiveness. So these displays offer an array of benefits for businesses aiming to succeed in the vibrant landscape of Las Vegas. Embrace the power of upright banner stand displays, and watch your brand shine in the City of Lights!