Tradeshow pullup banners Vegas is a great search term to look up on Google when you want trade show banner stands. Tradeshow banner signs are portable and a crowd favorite at the event venues. So these banner stands can be placed anywhere . As they are self standing and require no support to be displayed. The set up time for the retractable banner stands is less than two minutes. The banner stands can be walked into an event center and set up easily. These banner stand signs are very popular at the Las Vegas conventions and trade shows.
Las Vegas is host to many conventions and events. So at these events the top corporations in the world display their product lines. So in return, millions of people from all over the world attend these events and shows. This drives the economic engine of Las Vegas. Ad in the fact that Las Vegas has so many amenities. And you see why everybody likes to come to Las Vegas for their events. So instead of having their signs and banners shipped into Las Vegas. Many companies and vendors choose to have their signs made in Las Vegas. So this saves money on shipping fees. It also takes away the danger of having your signs and banners not showing up on time. Also showing up damaged. This happens quite frequently. Fortunately, Vegas sign shops have the ability to offer rush order signs and same day sign printing.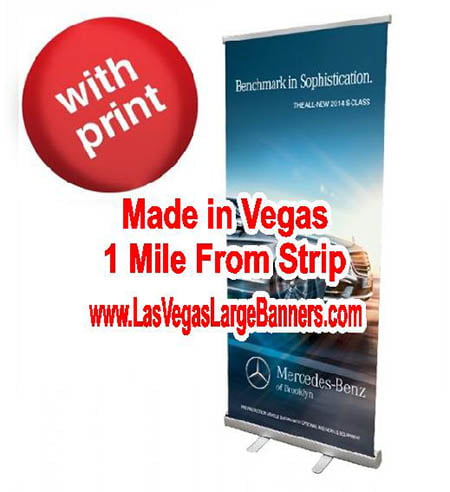 Tradeshow Pullup Banners Vegas Are offered in Many Sizes
Retractable banner stand signs come in many sizes. These tradeshow banners range from about two feet wide to around five feet wide. All the banner stand come with a telescopic height adjustment pole. So this allows you to set the height of the banner graphic to obtain that perfect fit. All stand up banner stands come with a carrying case to make easy transport of your signs.