Tradeshow pullup banner printing is needed for the events and shows in Las Vegas. There are hundreds of shows and events held in Las Vegas annually. So this includes some of the biggest conventions and trade shows in the world. Las Vegas has three very large convention venues with well over one million square feet of floor space. These event venues are so large that multiple events can be held simultaneously under one roof. So in addition to these venues. Each Las Vegas strip casino has thousands of feet of meeting and conference rooms. So as to hold smaller events.
All the the participants displaying their products and services at these venues need lots of signs nad banners. Las Vegas foam board signs and Las Vegas banner stands seem to be two of the most popular items. The roll up banner stands come in many sizes. The vendors and companies also like these banner stands because they are self standing and inexpensive. The portable banner stand display signs can be placed anywhere because they are self standing. The pull up banner stands are inexpensive and companies will just throw them away after an event. So this way the do not have to pack them up and take them with them.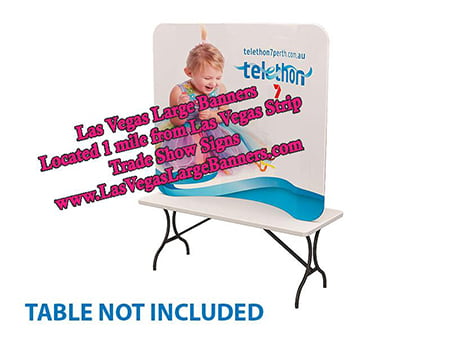 Tradeshow Pullup Banner Printing Can Use As Many Colors As You Like
The tradeshow rollup banner graphics are full color graphics. So this means you can print as many colors on the banner stand as you like. In addition you can have pictures of your products printed on the graphics.
Contact your local sign company Las Vegas for more information on the pull up banners. They are cost effective and very easy to set up. All the banner stands come with a carrying case which makes for easy transport of the signs. The banner stands will last a long time and can be used many times.