Tradeshow popup banners Vegas are great for tradeshow signage. These popup banner stands are portable and easy to set up. The cost of the tradeshow banner stands is minimal. Many vendors and companies will have banner stands printed for a particular event. And then simply toss them away after the event or show. The banner stands are also well received becasue they are portable. The portable banner stand signs can be placed anywhere. So the banner stand signs are self standing.
Tradeshow pull up banner stands come in many different sizes. These sizes range from around 2 feet wide to around 5 feet wide. The most common and popular pullup banner sign is the 33″ wide by 78″ tall stand. This economy display sign has almost 17 square feet of printable space. anything can be printed on the sign graphic. So any color along with pictures can be printed on your banner. The trade show banner stands also come in economy and deluxe versions. The deluxe banner stands offer a wide chrome base that is very impressive looking. All the banner stands come with stand, print and carrying case.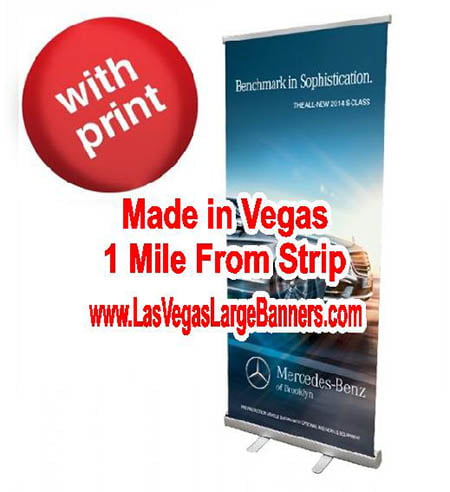 Same Day Tradeshow Popup Banners Vegas Are Available
Same day banner stand signs are sometimes needed for the tradeshows and conventions. Vendors and companies displaying at the event venues rely upon shipping companies to deliver their signage. So often the signs do not show up in time or show up damaged. So in these cases the banner stands and signs need to be redone so that the show can go on as planned. Many Las Vegas sign shops offer same day sign printing. Also delivery or pickup of your signs can be arranged to expedite your signs. Contact your favorite Vegas sign shops today for more information on these pop up banner signs.