Trade Show booth banners Vegas are being used at the trade shows held in Las Vegas. There are many trade shows taking place in Las Vegas every year. These trade shows like Con Expo and World of Concrete attract thousands of vendors and companies who display their product lines. So this in return attract hundreds of thousands of interested parties to attend. Many trade show signs and trade show banners are needed for these events.
Trade show backdrop banners are very popular at the various trade show venues. The companies like to display a large sign at the back of their trade show booth to get people's attention as they walk by. So these backdrop banners can be made to just about any size. However the majority of the tradeshow backdrop signs are usually a 8×8 banner or a 8×10 banner sign. These seem to be the most common sizes for trade show booth backdrop signs. So if you have a very big booth, a large banner backdrop can also be custom made to fit your needs. Backdrop banner signs like 10ft tall by 50 feet wide can also be made.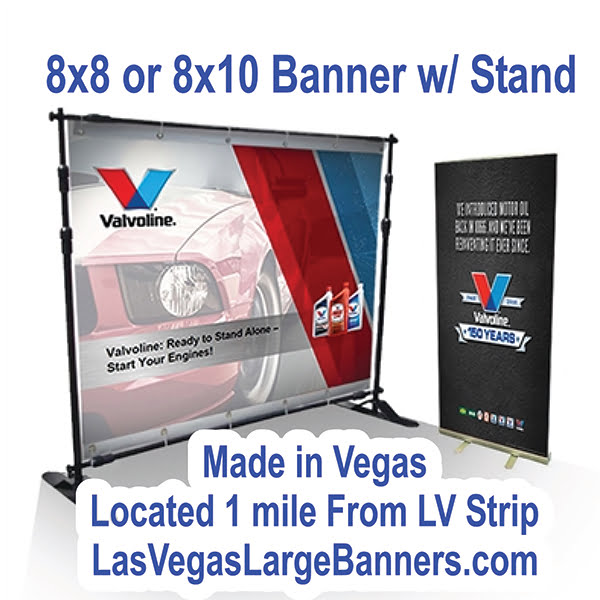 Trade Show Booth Banners Vegas Are Just Some of the Signs Needed At These Events
Many other types of tradeshow signs are needed for these events. So signs like foam board signs, poster signs and retractable banner signs. So the foam board signs are considered temporary signage and look very professional. They are made for indoor use and can be custom made to any size. The poster signs are great for display purposes. The retractable banner signs come in many different sizes to meet your needs. The vendors like the retractable banner stands because they are portable and self standing.
Your local Las Vegas trade show sign company will have lots of more information on these convention and tradeshow signs. Give them a call today to get yours ordered.