Tradeshow backdrop sign displays Vegas are needed for the many trade shows held in Las Vegas Nevada. There are hundreds of tradeshows scheduled every year in Vegas that bring thousands of vendors and companies who display their products. The newest products and innovations are brought into the public's eye. So these new products bring millions of people from around the world. These people fill up the hotels and restaurants and drive the Las Vegas economy. As a result, there were three very large convention venues built in Vegas to hold the biggest trade shows. The biggest venue is the Las Vegas Convention Center with over 3 million square feet of floor space. The other tow event venues are the Venetian Convention Center and the Mandalay Bay Convention Center. So both have over 1 million square feet of convention space.
Many Las Vegas banners and Vegas signs are needed for these events. The sign printing is non stop during the busy convention and trade show season. Backdrop banners are a big hit at the tradeshows. These large backdrop banners are being placed at the back of tradeshow booths. So as the people walk by they get to see what you have printed on your banner. If done right, the people will stop and look at your banner. So thus giving your sales team the opportunity to approach them and answer questions.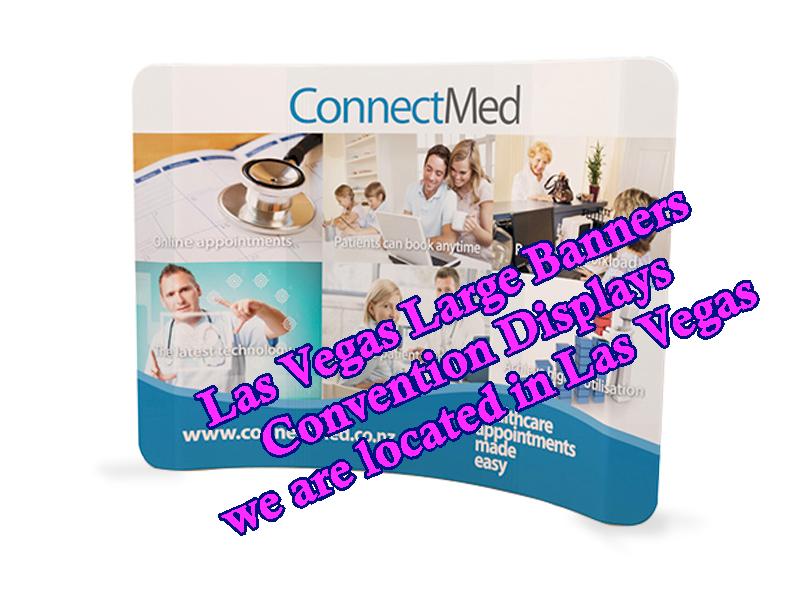 Tradeshow Backdrop Sign Displays Vegas Come In Many Sizes
The 8′ trade show display signs and 10′ trade show backdrop signs are very popular sizes. Since the trade show booths seem to be about that width. The tradeshow sign displays are easy to set up.The signs all come with a carrying case and the necessary hardware. They can be assembled in about 10 minutes time with one or two people.