Trade show banner stands Vegas are very popular at conventions and trade shows. So this is partially because the banner stands are portable. These retractable banner stands can be placed anywhere in your display booth. As they are self standing and require no assistance to be displayed. The trade show banner stand displays come in a variety of sizes to meet your marketing needs.
The most popular Las Vegas convention banner stand is the 33″ wide by 78″ tall model. This banner stand comes with the telescopic pole that allows for height adjustment. So this means you do not necessarily have to havea 78″ tall graphic. So your sign graphic could be 70″ tall and the banner stand adjusts to your graphic height. Compare this to the fixed pole system where it requires a bleed. So you will find a much better looking banner stand using a telescopic pole.
The 33″ by 80″ deluxe banner stand is another banner stand that is popular. So this banner stand sign comes with a wide chrome base that is very impressive looking. The banner stands also come in many other sizes. The graphics are all full color. So that means you can have pictures and images printed on the banner. Also in as many colors as you want. All the Las Vegas trade show banner stands come with a carrying case. So this make it easy to transport the signs.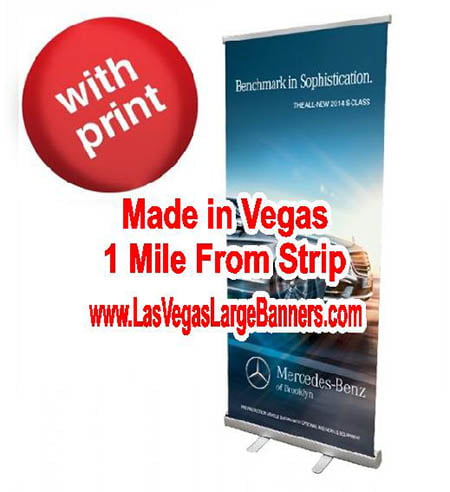 Trade Show Banner Stands Vegas Are not Expensive
The trade show retractable banner displays are not expensive. These banner stands start off at around $125.00 for the economy model. The banner stands are made to last and can be used at many different events. So they are also cheap enough to be used once and then simply thrown away.