Trade show backdrop displays Vegas are needed for the many trade show events held in Las Vegas. So most people do not realize that Las Vegas is a major destination for trade shows and conventions. Las Vegas is host to hundreds of events and shows a year. In fact there are three very large convention venues in Las Vegas with over one million square feet of floor space. The largest of them, Las Vegas Convention Center has over 3 million square feet of floor space. So this facility can hold the biggest conventions and trade shows in the world. They regularly have several conventions scheduled at the same time under one roof. Trade show backdrop display signs and trade show banners are needed for these events.
Trade show backdrop display signs come in many different sizes and versions. There are tradeshow display booth backdrop signs that come in kits. The 8ft curved fabric display costs less than $600 and the same price for the 10ft curved backdrop display. Trade Show backdrop banners can also be made to fit the rear of tradeshow booths. Vendors and companies will print large 8ft x 8ft banners and 8ft x 10ft banners for the background of their booths. So the companies and vendors will print pictures of their product lines on the banners. So this allows people walking by to see what products they are promoting. It created more opportunities to talk to people when they can visually see what products you have and what they need.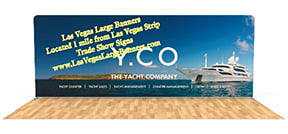 Trade Show Backdrop Displays Vegas And Other Signs Are Available in Vegas
Many more types of trade show signs and trade show banners are available at the trade shows. Tradeshow banners are inexpensive and can be custom made to any size you like. Many companies will make a 10ft tall x 50 foot wide banner and hang it from the rafters . So in order to make a big impression on people at the conventions.