Standup retractable banners Vegas are self standing signs. These popular standup retractable banner stands can be placed anywhere in your display booth. As they require to be attached to nothing. So this makes them very portable and easy to move around. The standup retractable banner stands come with a full color print and carrying case. So images and pictures can be printed on the banner stand graphic.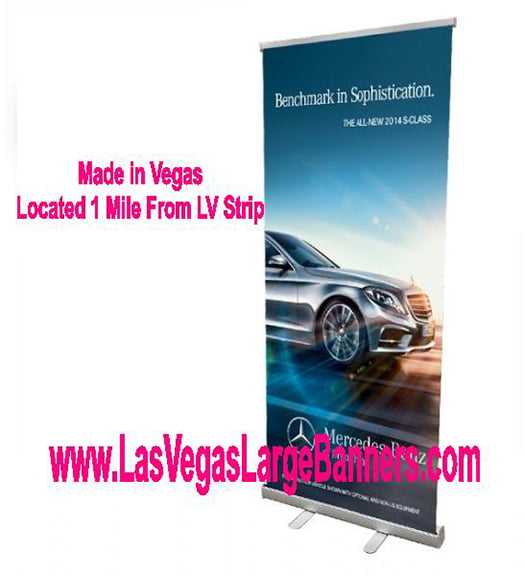 Standup Retractable Banners Vegas Are Used At Events and Shows
So retractable banners are used a lot at conventions and trade shows. Vendors and companies can walk in with these banner stands and set them up. They are quite easy to set up and only take a minute or so. The stand up banner stands come in many sizes to meet your marketing needs. The popular size is the 33×78 rollup retractable banner stand that sells for around $125.00. Other popular sizes for rollup banner stands are the 33×80 deluxe model and the 45″ wide x 78″ tall economy model. All these different banner stands come with a full color print and carrying case. So they also feature the adjustable telescopic height pole that allows you to adjust height. No bleed is required for designing with the adjustable height pole.
Many times vendors and companies come into Vegas and bring their signage with them. So they ship their signs and often find themselves with lost or damaged signs upon arrival. Because of this persistent problem many sign stores near the convention venues offer same day sign printing. Rush sign printing orders are common because of the amount of events and shows in Vegas. Smart companies will just order their signs and banners from a Las Vegas sign store to save shipping costs and headaches. Contact a sign store today if you should need retractable banners for your event.