Standing banner signs Vegas are retractable banner stands. These retractable banner stand signs are very popular at the events and shows in Las Vegas. Partly because they are self standing and can be placed anywhere. So there portability makes them very convenient. There compact size when taken down is also popular. People can simply walk into an event with these portable banner stands and set them up in a minute. When fully set up, the economical and cheap 33×78 retractable banner stand has about 17 square feet of printable space. That is a lot of space for such a small sign.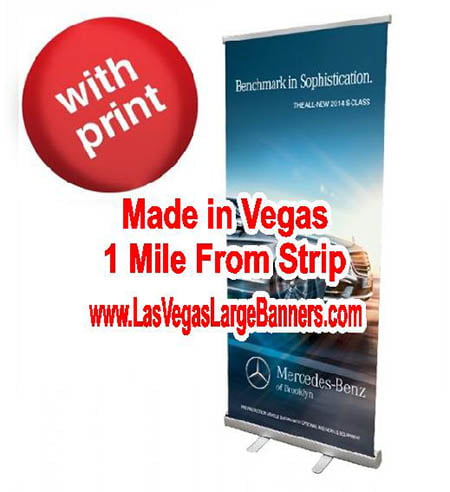 Standing Banner Signs Vegas Come in Many Varieties.
Retractable banner stands come in many different sizes. The most popular size is the 33×78 model. So then comes the 33″ x 80″ deluxe stand up banner stand. This model along with the other models come with a telescopic pole for height adjustment. Other features include a full color graphic and carrying case. The full color graphic allows for any color along with pictures and images printed on the banner. The stand up banner stands also come in the popular size of 36×92 deluxe banner stand and the economy 45×78 banner stand.
Las Vegas signs are needed at the event and show venues in Las Vegas. Vegas is the number one destination for conventions and trade shows in the United States. So as Vegas has many amenities to offer people coming for the shows. There is an abundance of hotel rooms and parking. Top restaurants are everywhere on the Las Vegas strip. So of course we also have 24 hour entertainment. There is so much to do while your convention event is going on.
Signs and banners are no problem in Las Vegas. If you should need some same day Vegas signs or banners just give your local sign store in Vegas a call.