Stand roll up banner Vegas can get you those stand up banner stands needed for your event or show. The banner stands are well suited for the trade shows and convention booths. As these retractable banner stands are self standing signs and can be placed anywhere. This versatility alone makes them very popular. So add in the fact that they take up little room since they pull straight up. And you have a very convenient sign for an event.
The banner stands come in many different sizes to meet your marketing needs. The best selling roll up banner stand is the 33×78 banner stand. This stand up banner stand has almost 18 square feet of printable space. So that allows for a full color graphic that can include pictures and images. So full color graphic means as many colors you want printed on your banner stand. Many of the vendors and companies displaying at the event venues will print their product pictures on the banner graphics. So then they add a brief description of the product to entice people to ask questions from your team members. The 33×78 banner stand sells for $125.00. The banner stand also comes in popular sizes like the 33×80 deluxe banner stand, 36×92 and 45×78 retractable banner stand.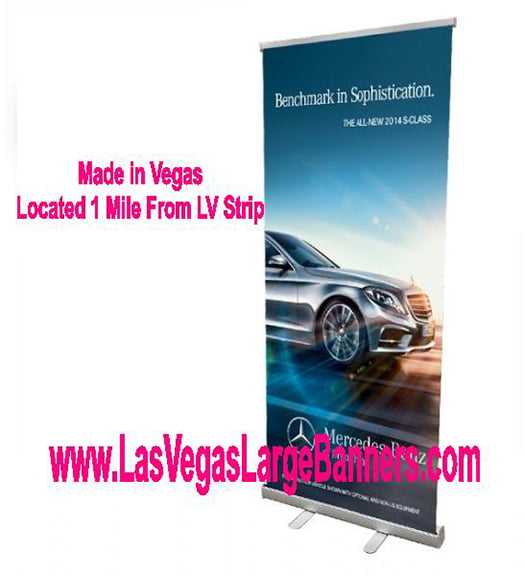 Stand Roll Up Banner Vegas Can Be Made Fast
Las Vegas banner stands can be made fast and often the same day. While it usually takes a day or two for a banner stand to be made. Rush banner stand signs can be made the same day. This is because Las Vegas signs shops have modern sign printing equipment. This equipment is necessary for all the hundreds of events and shows held in Las Vegas. Also for the many casinos needing signage for their businesses. So contact your local Vegas convention sign company today for additional information.