Same day vertical banners Vegas is a great search term to find rush order vertical banner stands. So retractable banner stands are a very popular display sign at the conventions and trade shows. And many times vendors and companies bring them to Las Vegas. So only to find out they got damaged during the shipping process. In cases like this the pop up banner stands need to be replaced quickly. Also at a reasonable price. So fortunately there are a few Las Vegas sign Banner stand companies that can print your vertical banner stand same day.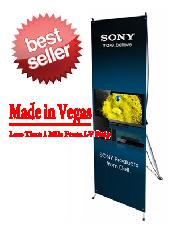 Same Day Vertical Banners Vegas is Not Expensive
Retractable banner stand printing is not expensive. The common vertical banner stand is the 33″ x 78″ tall model. This banner stand comes with a full color graphic print along with a carrying case. The carrying case allows for easy transporting of the compact banner stand from event to event. The 33×78 vertical banner stand cost around $125.00. Many more banner stand signs sizes are available.
Vertical banner stands can be printed on a 13 ounce vinyl banner material or a anti curl banner material. The vinyl banner material is standard and very durable. The anti curl banner material looks more professional. But the anti curl banner is fragile. Once kinked, the anti curl banner material remains kinked and is not forgiving. For short term use, the anti curl banner materiel is perfect for conventions and trade shows.
Las Vegas has a few sign stores capable of same day banner printing. These sign stores are located near the convention venues and stock banner stands in inventory. So they also have large format printers that can print your signs and banners fast with the highest quality. Give them a call today for your sign and banner needs.