Same day retractable banners Vegas is available at Vegas sign companies. Las Vegas sign companies recognize that thousands of vendors and companies to to Vegas yearly for events. So many signs and banner stands are needed for display at the events and shows. Also at these events many thousands of banners and signs are needed for display. So unfortunately many times sign graphics get lost or damaged. Vertical banner stands seem to be a popular graphic that gets lost or damaged. So as a result, Vegas sign companies offer same day upright banner stand printing.
The retractable banner stands come in many different sizes. The banner stand printing includes as many colors on the graphic as you like. So this also includes printing pictures and images on the banner stand signs.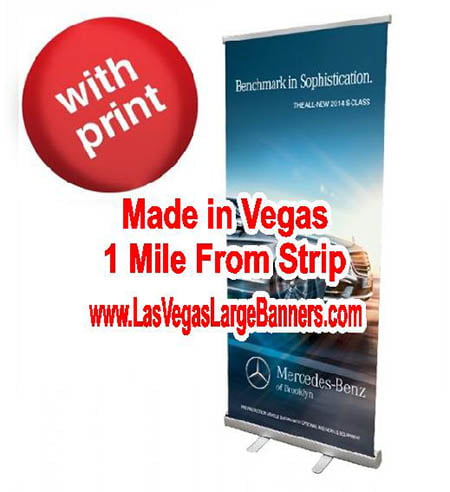 Same Day Retractable Banners Vegas Are Not Expensive
So while you may think that rush order banner stands are expensive, they are not. While there may be a small inconvenience fee. The fact is that Vegas sign shops can print your same day signs and banners fast. The most popular size retractable banner stand costs around $125.00 and can be printed fairly quickly. The top of the line 36″ x 92″ retractable banner stand costs around $225.00 and can also be printed fairly quickly. Also the 45″ x 78″ retractable banner stand can be printed very quickly.
Roll up banner stand printing is performed on anti curl banner material or 13 ounce vinyl banner material. Full color printing of the banner allows for multiple colors. So this means that backgrounds and logos can be printed on the banner graphic as well. The inks used are environmentally friendly and allow for bright and vivid prints. The inks are long lasting and can be used both indoors as well as outdoors. Using vibrant and bold colors on your graphic design will bring attention to your signage. Using easy to read fonts and text make it
Your local Vegas sign store will have more information about same day banners and signs and rush order signs. Give them a call today if you should find yourself in need of signs and banners for an event or show.