Same day 33 x 78 retractable banner stands are available in Las Vegas. Certain sign stores have state of the art large format printers. These printers can print very fast. Also, with the highest quality. Las Vegas Large Banners sign shop has the printers to print your banner stand signs.
Retractable banner stands come in many different sizes. The 33″ wide by 78″ tall sign stand is the most popular. This banner stand has the telescopic pole for height adjustment. So this allows for the perfect fit for the display of your banner stand. The banner stands also come in sizes ranging from around two feet wide to around four feet wide. All the banner stands come with a telescopic height adjustment pole. In addition, the banner stands come with a carrying case. So this allows for easy transport.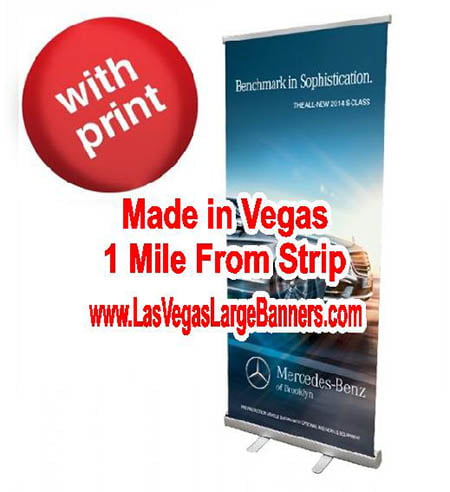 Same Day 33 x 78 Retractable Banner Stands Are Not Expensive.
Vegas retractable banner stands cost around $125.00. Same day printing of the banner stands is a possibility. Often, rush order banner stand printing can be accommodated. Also, the sign shops that can make the same day banner signs are generally located near the convention venues. So this allows for easy pick up or delivery of your signs. Fast turnaround is important. Also, saving time and money on delivery is important.
Choosing the sign shop is also important. Make sure you do not pick a middleman with no equipment. Use tools like Yelp and Google to decide which sign company is best. Five star rated Yelp Las Vegas Sign Companies and Google reviewed companies are the best. Shop around for best price and fast turnaround with just a few searches. Also, a phone call or two will lead you to the best price. Have a Great Convention or trade show.