Roller up banner stand Vegas are great signs. That are being used at the various events and shows in Las Vegas. There are hundreds of events and shows a year being held in Southern Nevada. Every casino on the famous Las Vegas Strip have meeting and conference rooms that hold small events and shows. These rooms range from just a couple of hundred square feet to up to 200,000 square feet. So then you have the large convention venues that range in size from 1 million to 3 million square feet. These large convention venues are capable of handling the biggest conventions and shows in the world. The Las Vegas Convention Center ( LVCC ) has over three million feet of convention space with modern facilities. So many roll up banners and retractable banners are needed for these events.
Las Vegas retractable banner stands are very popular at these events. The pull up banner stands are capable of being placed anywhere because they are self standing. These stand alone banner stands are perfect for tradeshow booth display signs. The banner graphics are full color. So you can have colors and pictures printed on the sign graphic.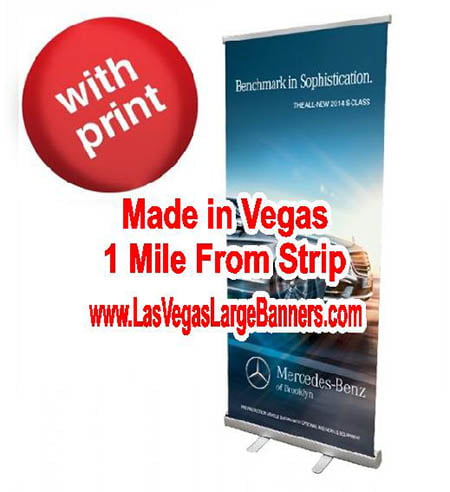 Roller Up Banner Stand Vegas Come In Lots Of Sizes
The most economical and popular size stand up banner stand is the 33×78 sign. This has about 17 square feet of printable space. The Vegas banner stand printing can be in full color. So meaning you can print as many different colors and pictures on the banner graphic as you like. The banner stands all come with a telescopic height adjustment pole and carrying case.
Roll up banner stand signs can be made the same day. So same day sign printing is available in Vegas because of all the tradeshows and conventions. Many times signs get lost or damaged and need replacing at the last minute. So many Vegas sign shops have this capability for a reasonable price.