Roll-up banner stand displays are a tpopular banner stand sign used at the many conventions and trade shows in Las Vegas Nevada. These roll up banner stands are designed to showcase messages, branding, and visuals to get attention from potential clients. They consist of a retractable banner that can be pulled up from a base and secured in place. So thus, creating a freestanding visual display sign. These banner stand signs are available in various sizes and designs. So making them adaptable to meet your marketing message.
The advantage of roll-up banner stand displays lies in their ability to deliver impactful visual communication of your products or company. The combination of vibrant colors, concise text, and a large visual display gets people's attention at your event. These retractable banner stands are an ideal choice for getting attendees attention at events and trade shows. Their presence creates a strong first impression and encourages people to stop and ask about your products. The banner stands can then be used as a reference during your engagement with potential customers.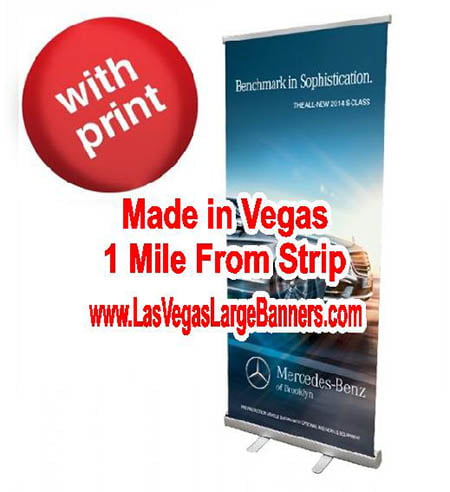 Roll Up Banner Stand Displays Vegas Are Easy To Set Up.
One of the standout features of retractable banner stand displays is their portability and ease of setup. The banner stands stand alone and require no support other than themselves. These banner displays are lightweight and come with a carrying case. So thus allowing for easy transport between event venues. Setting up a standing banner stand takes mere minute or so. The banner can be smoothly extended from the base and secured using a pole to reach its effective height. This easy setup makes them an excellent choice for businesses that do not want to pay expensive union labor at an event.
Roll-up banner stand displays are remarkably versatile and can be employed in different ways. They are commonly used at Las Vegas trade shows, exhibitions, and conferences to create visually appealing event booths. So this helps people easily identify your event booth and what items you are promoting. In retail spaces, they can be strategically placed to promote new products or ongoing sales. These pull up banner stands can also be used in corporate meetings for visual purposes
Vegas Retractable Banner Stands Are Cheap in Price.
Compared to more permanent advertising solutions, banner stand signs offer a cost effective solution. The initial purchase cost is relatively low, and the banner displays can be used many times over. Las Vegas businesses can update the banner graphics to reflect new campaigns or offerings. So thus extending the usefulness of the sign display without incurring the cost of a new banner stand.
In conclusion, trade show banner stand displays have transformed the way businesses approach visual communication and marketing. Their portability, versatility, and ability to be made in various sizes make them a great sign tool for a wide range of applications. Whether at trade shows, conventions, or exhibitions, these displays get attention and deliver your marketing message. Contact your local Vegas sign company for additional information.