Retractable trade show banners are liked by the vendors and companies displaying products at the conventions and tradeshows. These retractable banner stands are self standing signs. So that means you can place them anywhere becasue they stand alone. These portable banner stand signs are great for trade shows booths where space is limited. The ability to move the signs around make them very distinct.
The retractable convention banners come in many different sizes to meet your advertising needs. The most popular model tradeshow pull up banner stand is the 33×78 banner stand. This economy banner stand sells for $125.00. The hardware, banner print and carrying case are all included. The banner stand uses a telescopic height adjustment pole that allows you to set the height of the banner graphic. The pull up banners come in widths of about 24″ to around 60″ wide. So they also come in economy and deluxe sign models. All the banner graphics can be full color graphics. So that means you can have as many colors printed on the banner graphic as you like. Also pictures of your products and images can also be printed on the banners.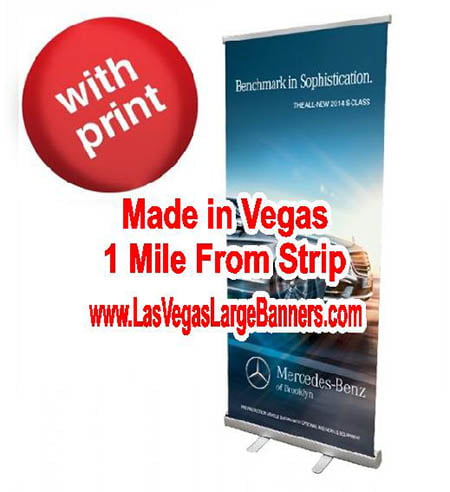 Same Day Retractable Trade Show Banners Are Also Available.
So often companies and vendors come into Las Vegas without their signs and banners. So either they forgot to bring them or the shipping companies failed to deliver them in a timely manner. Or worse, the signs show up damaged. If this is the case, Las Vegas has many sign companies that service the trade shows and conventions. These companies sell many tradeshow displays and know what you need for your event. Many of these Vegas signs stores offer same day printing. So give them a call today if you should need some some day sign printing.