Retractable trade show banners Vegas are in demand during the busy convention season in Las Vegas. The vendors and companies promoting their products like these stand alone banner stands. The pull up banners can be placed anywhere becasue they are self standing. The banner stands come in a variety of sizes to meet your marketing needs.
Hundreds of companies and thousands of vendors come to Las Vegas to show off and peddle the latest merchandise. So this attracts millions of interested parties from around the world. These millions of visitors drive the Las Vegas economy and keep things moving for the locals. There are many sign shops that service the trade shows and conventions. These sign shops have the latest sign making equipment to make your banner stands, foam board signs and backdrop banners fast and cheap.
All these types of signs and many more like them are used at the convention venues. The signs help promote the companies products and make sure everybody knows what they sell. The backdrop banners are being placed at the back of display booths. Smart companies and vendors are printing pictures of their products and services on these backdrop banner signs. So this way as people walk by their booths, they can easily see what you are promoting.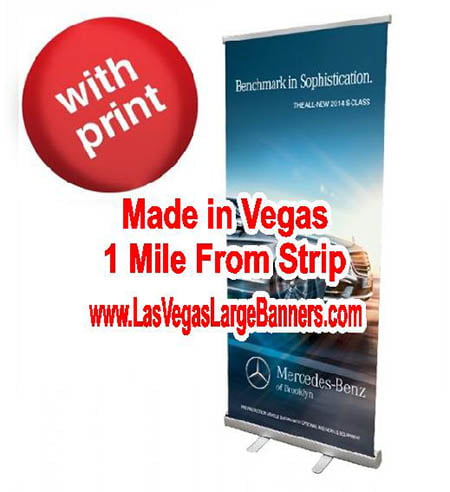 Retractable Trade Show Banners Vegas Are Not Expensive
The most economical banner stand available is the 33×78 roll up banner stand that sells for around $125.00. But these banner stands come in many different versions ranging from around 24″ wide to around 60″ wide. So the banner stand signs also come in different heights. All the banner stands have telescopic height adjustment poles that allow you to set the height. So this allows for heights to be roughly 45″ to around 92″ on the different banner stand models.
Your local sign company in Vegas will have more information on these great trade show signs.