Retractable roll up banner stand are one of the most used signs at trade shows and conventions in Las Vegas. The vendors and companies like these portable banner stands. The banner stand signs are self standing and require no support. So they can be moved around a lot and people like that.
So thousands of banner stands are made for the events and shows every year in Las Vegas. The banner stands come in many different sizes. The sizes range from around 24″ wide to around 60″ wide with varying heights. So the banner stands also come in economy and deluxe versions. The deluxe versions have a wide chrome base that is very professional looking. All the trade show banner stands come with a carrying case that helps protect the sign and makes it easy to transport. The signs also have a telescopic height adjustment pole that allows the height of the graphic to be custom set. So this way you always get the perfect fir of your banner graphic.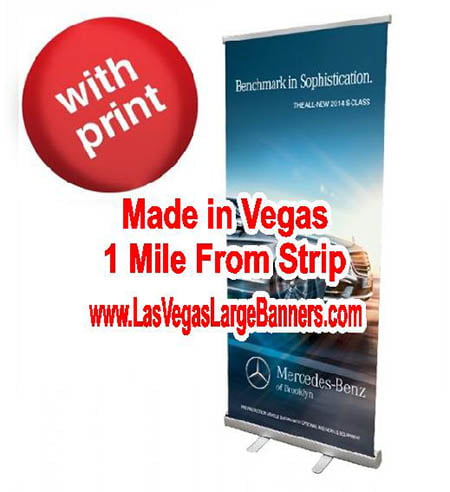 Retractable Roll Up Banner Stand Is Not Expensive
The popular economy 33×78 banner stand only costs around $125.00. So this price includes banner stand hardware, carrying bag and banner graphic print. The retractable banner stands are easy to set up. It only takes less than two minutes to set up a banner stand. And less time to disassemble the sign and put it back in its carrying case.
The companies coming into Las Vegas for events like to have their banner stand signs made locally. So this way it cuts down on unneeded shipping expenses. And the worry that the signs wont show up on time. Or worse yet, show up damaged. In order to avoid these issues, many companies simply order there signs and banners from Las Vegas sign shops and pick them up upon arrival. So they can also have the signs and banners delivered to their hotel room or venue.