Retractable banners are in huge demand for the conventions and shows in Vegas. These stand alone banner stands are great for display booths. As they can be placed anywhere because they are self standing signs. The roll up banner stands come in many sizes to meet your marketing needs.
There are hundreds of these conventions and trade shows held in Vegas every year. They attract thousands of vendors and businesses form all over the world. They promote their product lines to the millions of people that flock to attend these events. the biggest companies in the world come to Vegas to show off their products and services.
Retractable banner stands are easy to set up. So this is also one reason why companies and vendors like to use them. Also the banner stands can be used many times at different events. The banner stands also come in many sizes. The 33×78 retractable banner is the most popular sign. This retractable banner signs costs $125.00 and comes with all hardware, carrying case and graphic print. The stand comes with a telescopic pole which allows for height adjustment. So this way you get the perfect fit. The indoor banner stands also come in the 33×80 deluxe banner stand and the 36×92 banner stand.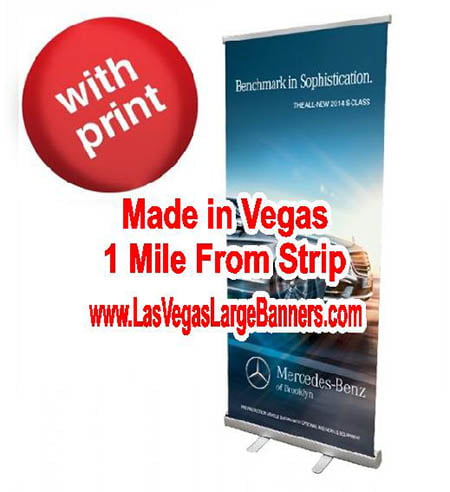 Retractable Banners Can Be Made Fast
Rush banner stand printing or same day retractable banners are available in the Las Vegas area. So the reason being is that there are sign shops near the convention venues that offer fast signs and fast banners. These sign shops have state of the art sign printing equipment to print your signs fast with high quality. Many times vendors and companies show up in Vegas without their graphics for one reason or another. So in these types of cases, the signs and Las Vegas banners need to be made quickly.