Retractable banner stand printing Vegas is a good term to use when searching for a banner stand printer. Many retractable banner stands are made for the conventions and trade shows in Vegas. These banner stands are self standing and require no support. Also the fact that the rollup banner stands compact into a small casing makes them very desirable. When fully extended, the popular 33×78 banner stand has about 17 square feet of printable space. This printable space can be full color. So that means you can have as many colors on the banner graphic as you like. Also you can have pictures and logos printed on the banner stand.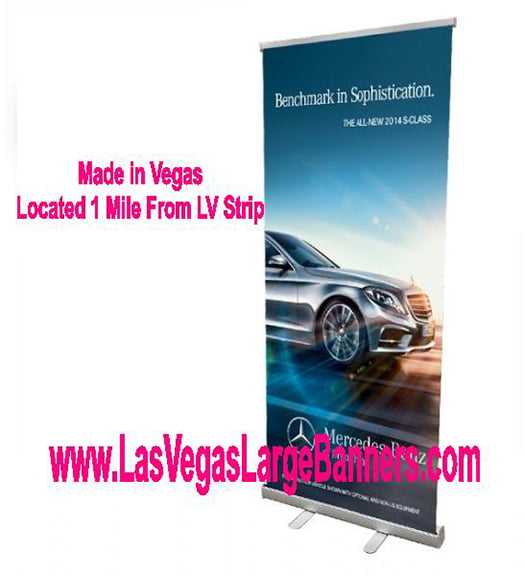 Retractable Banner Stand Printing Vegas Are Needed At Conventions and Trade shows.
Signs and banners get lost or damaged all the time at conventions and trade shows. These signs and banners get damaged during transit to Vegas or at the convention venues. Also signs and banners get misplaced a lot. So Vegas sign companies have the capability to print same day signs. The sign companies that cater to the conventions and trade shows have modern sign printers. So these modern printers are capable of printing at very fast speeds. Because of their fast printing capability the cost of signs and banners has actually gone down in price. The cost of the popular 33×78 retractable banner stand is about $125.00. Standard turnaround is 2 days. However, rush order banner stand printing is available.
The retractable banner stands all come with a telescopic pole for height adjustment. Also they come with a carrying case for easy transport from event to event. Your local Las Vegas sign store will have more information on the printing of pull up banner stands. Give your local sign shop a call today and schedule your banner stands printing.