Retractable banner stand displays Las Vegas are one of the most versatile signs you can have at your event venue. These impactful signs get attention. The portable retractable banners are one of the most popular forms of signage used at the Las Vegas convention venues. Foam board signage, poster signs and banners are also a very popular choice to get your convention booth noticed. it is important that your convention booth gets noticed. So this way you stand out amongst all the other companies. The whole idea is to get noticed by the attendees at these events. And get the opportunity to speak to them about your products and services.
The retractable banners offer a large canvas to paint a picture about your products. By using bright and vivid colors you can draw attention to your signage. The vibrant colors need to be in line with your company branding and product lines.
The pull up banner stands are easy to set up. These trade show signs only take a minute or so to set up. So best of all is that you can simply walk into a convention venue and set them up yourself. This eliminates expensive union labor and saves you money. The banner stands are portable. So this allows you to move the banner stand around to find that perfect spot. These portable pop up banners are self standing. So this allows you to set them up anywhere. The convention venues will also use these portable pop up display stands as directional signage. The event centers are so big that usually they have a couple of conventions going on at the same time.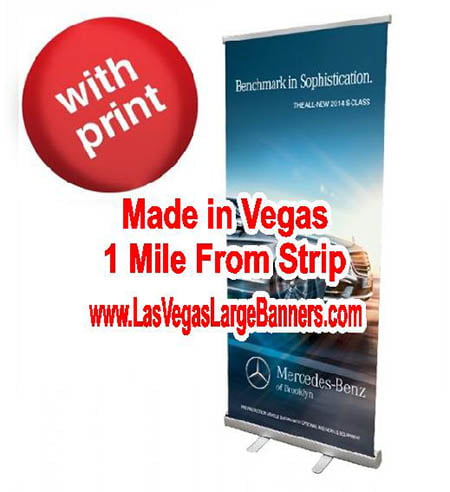 Retractable Banner Stand Displays Las Vegas Come In Many Sizes
The most popular roll up banner stand size is the 33 x 78 banner stand. This banner stand sells for about $125.00 and only takes a day or two to print and make. Same day banner stands are also available in many cases. Contacting your local Las Vegas sign company to find out for sure. The deluxe version of the economy banner stand is the 33×80 stand that sells for around $165.00. The deluxe roll up banner stand has a wide chrome base that is very impressive looking. So other banner stand sizes are the 45×78 banner stand, double sided banner stands, and the 36×92 banner stand to name a few choices.
Trade show booth signs are a staple in advertising at an event venue. It is important to get the attendees to take notice of your signage and the visual impact they cause. Contact your local Vegas sign compnay today for more information.