Retractable banner sign printing Vegas can get you those rollup banner stands. Banner stands are a very popular display graphic at events and shows in Vegas. Because these banner display signs are self standing and can be placed anywhere. Also because the banner signs are compact and when fully displayed, the 33×78 banner stand has about 17 square feet of printable space. So this equates to printing a lot of information on your display sign. The sign displays are inexpensive and come in many different sizes to meet your marketing needs. The retractable banner stands are printed in high resolution. So your pictures and graphics will be top quality.
Keeping your retractable banner stand graphic incoordination with your company colors and product colors is a must. Continuity of branding is very important. bold and vibrant colors should be used to garnish attention. Getting attendees at your show events to take notice of your signs is imperative. As these trade show signs need to stand out amongst your competition. Also the retractable banners can be used in the sales speech and used as reference.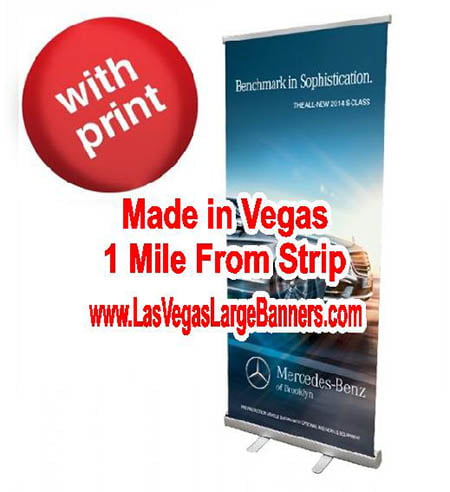 Retractable Banner Sign Printing Vegas is Cheap in Price.
The most popular rollup banner size is the 33″ x 78″ banner stand. This banner display sells for $125.00 and includes a full color print. So this means you can have pictures and logos printed on the banner graphic. Also as many colors as you like can be printed on the banner graphic. Also the banner stand come in other sizes such as the 45×78 banner stand. In the deluxe versions the 33×80 banner stand and 36×92 banner stand are very popular. These pull up banner stand displays are all self standing and stand alone. So this means you can place them anywhere in your display booth. The portable banner sign displays are versatile and allow for easy movement.
The pop up banner stands all come with a free carrying case. So this allows you to transport the banner stand display signs from event to event. They are easy to set up and just take a minute or two. The banner stands take just a few days to print and assemble. Same day banner stand printing is also available in certain cases. The sign stores that have this same day sign printing capability are generally located near the convention venues. This allows for rapid and easy pick up or delivery of you finished signs and banners.