Retractable banner printer Vegas can get you those roll up banner stands and retractable banners. These banner stand signs are very popular at the many exhibitions and conferences in Vegas. So these retractable banner stands are portable and can be moved around to that perfect location in your display. These stand alone stand up banners are perfect for the trade shows. Many of the vendors and businesses that display at the event venues like these stand up banner stands. Because they are cheap in price and display very well. The banner stand signs can be set up in a couple of minutes and walked into an event venue. The banner stands can be used multiple times or simply thrown away after an event.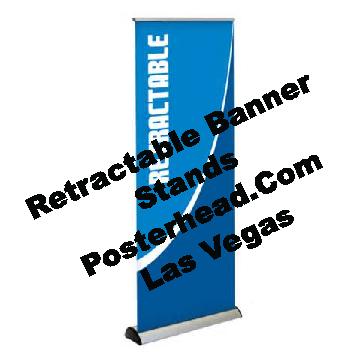 Retractable Banner Printer Vegas Can Make Banner Stands in Many Sizes.
Pull up banner stands come in many different sizes. The most common size is the 33×78 banner stand. So this sign has almost 17 square feet of printable space. That is a lot of space to print on considering that banner stands are looked upon up close. So the writing or text does not have to be large. The banner graphics can have pictures and images printed on them as well. This 33×78 roll up banner stand sells for about $125.00 and can be made in just a day or two. Same day banner stands are also available in many cases. The upright banner stand signs also come in sizes like 33×80, 36×92 and 45×78 tall. Many more banner stand sizes are also available.
All the banner stands come with full color graphics. So that allows you to print as many colors on the banner stand graphic as you like. In addition, the pull up banners all come with a carrying case. So this allows for easy transportation from event to event.