Retractable banner displays Vegas area very popular type of sign being used at the convention venues in Las Vegas. These portable signs are a crowd favorite among the vendors and companies displaying at these events. The retractable banner sign displays are self standing signs. meaning you can place these banner stands anywhere because they stand alone.
Millions of people come to Vegas every year to attend these events. The vendors and businesses displaying at these events are promoting the newest products and gadgetry. So businesses want to be on the forefront of marketing and see the newest products. They want to be first in line to have the new products. So these events are so popular in Las Vegas that three major convention venues have been built to house these shows.
The Las Vegas Convention Center is the biggest at over three million square feet of floor space. This facility is so big that multiple shows can take place at the same time. The other two facilities, the Mandalay Bay Convention Center and Venetian Event Center have over one million square feet of show space. Many Las Vegas signs and Las Vegas banners are needed for these events. Also foamboard signs, poster signs and vinyl banners are needed.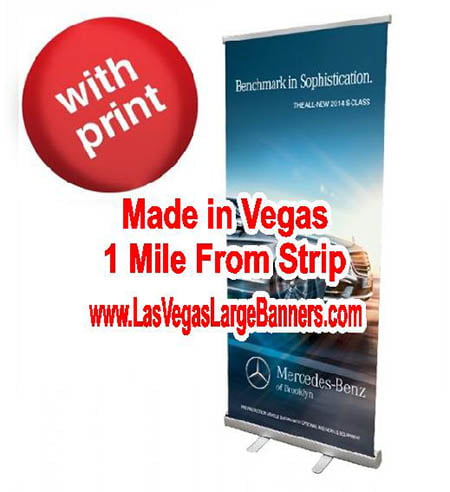 Retractable Banner Displays Vegas Can Be Printed Fast.
Same day banner display stands can be made. So many times through no fault of the vendor or company signs are need quickly. It could be as simple as the marketing plan changed. Or perhaps the shipping carrier you chose to deliver your signs and banners did not deliver on time. Also the possibility of your signs showing up damaged. In any case, the retractable banner stands need to be replaced quickly.
Your local Las Vegas convention sign company can help you with all your convention signs.