Tradeshow signs Vegas are badly needed during the busy event and show season in Las Vegas. This tradeshow and convention season last all year round. But mainly happens during the December through April period. Dusrig the tradeshow season, there are hundreds of events that attract thousands of vendors and companies. So this in turn attracts millions of people all over the world. These people are looking for the newest products and services. Many signs and banners are needed for these events.
Las Vegas has three very large convention venues. The Mandalay Bay Convention Center. The Las Vegas Convention Center and the Sands Expo. All three of these facilities have well over one million square feet of floor space to hold the biggest conventions. In fact, these venues are so large that they can have multiple conventions happening at the same time. The convention and tradeshow business help drive the Las Vegas economy.
Tradeshow backdrop Banner signs are very popular at these venues. Vendors will place large backdrop banner displays at the rear of their display booths. So as the participants walk by. They will take notice of of what is printed on the signs. So the companies and vendors will print pictures of their products on these signs. This allows everybody to know exactly what products you are promoting.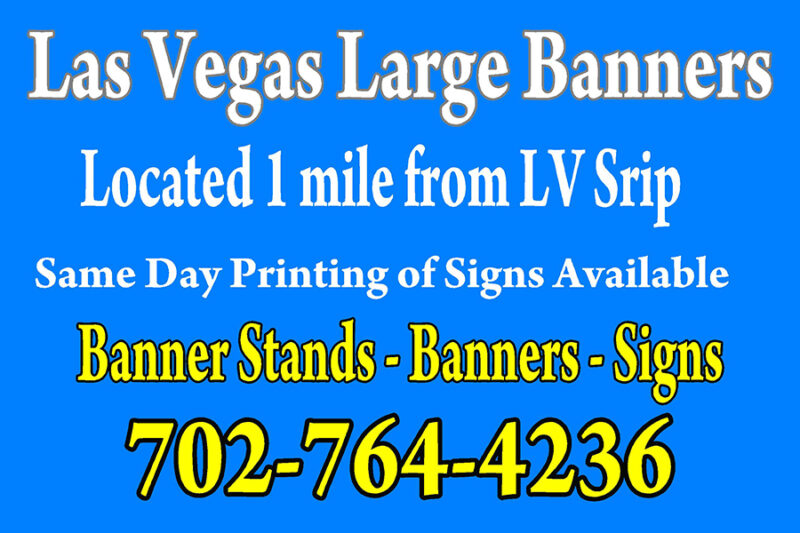 Tradeshow Signs Vegas Also Include Retractable Pull Up Banner Stands
Pull up banner stands are also extremely popular at tradeshows and conventions in Vegas. These portable banner stands can be placed anywhere because they are self standing. The banner stands Las Vegas come in a variety of sizes to meet your needs. These banner stand sizes range from about 2 feet wide to about 5 feet wide. So if bigger displays are needed, you can go to a 8ft x 8ft banner with adjustable stand or even a 8ft x 10ft banner stand display.