Pull up banners for trade shows are very popular at trade shows being held in Las Vegas. The vendors and companies who are exhibiting at these events. Love the versatility of the retractable banner stands or roller up banners. These roller up banner stands are self standing. So that means you can move them around and place the signs where you want them.
Most people do not realize that Southern Nevada is a major destination for trade shows, exhibitions and conventions. The Las Vegas area has three very large convention venues for these events. The biggest of the convention venues, the Las Vegas Convention Center. Has almost 3 million square feet of space to hold the biggest conventions in the world. The other two large venues are the Sands Expo and Mandalay Bay Convention Center. These are not small venues as they both have over 1 million square feet of floor space. These facilities are so large that they can divide the venue up and hold multiple conventions at the same time.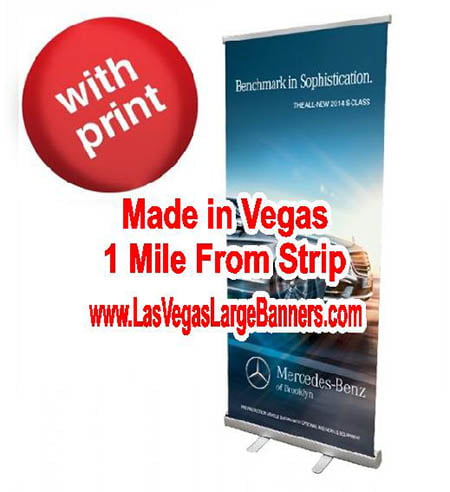 Pull Up Banners For Trade Shows Are Not Expensive
The economical and popular 33×78 roll up banner costs around $125.00 and can be made in just a day or so. The banner stand graphic is full color. So this means you may print as many colors on the pull up banner stand as you like. So this also includes pictures and images. These popular banner stands also come in a variety of other sizes that range from about 24″ wide to around 57″ wide. The pull up banner signs also come in different heights. All the banner signs come with a telescopic height adjustment pole and a carrying bag for easy transport.
Contact you local Las Vegas trade shows sign store for more information about these stand alone banner stands.