Pull up banner stand displays Vegas are being used at events and shows all over Las Vegas. Las Vegas is the king of entertainment and conventions. As everybody wants to hold their events in Southern Nevada. Thousands of companies from all over the world showcase their [product lines. So this in turn attracts millions of people to see the newest innovations and gadgetry. The retractable banner stands are versatile and effective tools for promoting products, services and events. These portable displays are design and clear and concise text. So to capture attention of the people attending these events. And convey messages with visual impact .
Pull-up banner stands consist of a retractable banner that is stored within a metal base. The base typically has a telescopic pole that allows users to adjust the height of the graphic banner. The banner itself is made from durable materials like vinyl or fabric and is printed with high-resolution graphics and text. High quality pictures printed on the banner stand display the best and impress clients.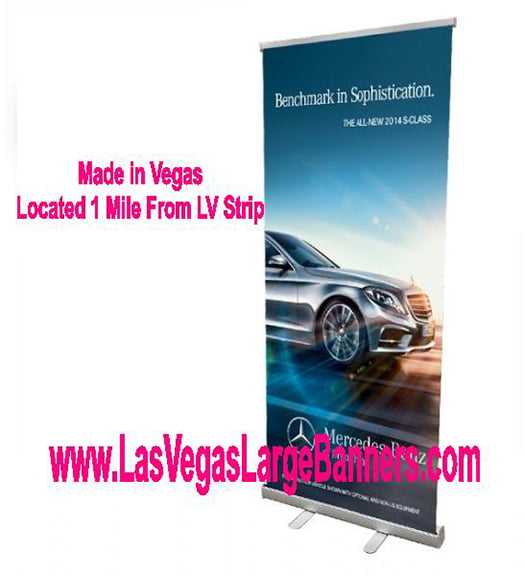 Pull Up Banner Stand Displays Are Easy To Set Up
The retractable banner stand displays are very easy to set up. So set up time is about one minute. The retractable banners are portable and can be easily moved around. One of the key advantages of pull-up banner stand displays is their ease of setup. Users can set up these displays in just a few minutes without any special tools or technical expertise. The banner is simply pulled up from the base and attached to the telescopic pole. When not in use, the banner retracts back into the base for safe storage and easy transport. All the banner stands come with a carrying case. This portability is a major selling point. So it allows businesses to use the pull up banner stands over and over again at different events.
Pull up banner stand displays are versatile in terms of their applications. They can be used in a variety of settings, including Vegas trade shows, conventions, retail stores, corporate events, presentations, and even in hallways of the event center. Their compact size and lightweight nature make them ideal for temporary setups. So thus getting the attention of people very easily. So the portability of these pop up banner stands allow them to be moved around to find the right place for display.
Banner Stand Signs Deliver A Message
These displays can be fully customized to align with a company's branding and messaging. Businesses can choose the colors, graphics, and text that best represent their identity. So this customization helps create a consistent and professional appearance across various marketing materials.
Stand Up banner stand displays offer an afforadable solution for businesses seeking visual marketing at a low cost. They are relatively affordable compared to larger trade show display signage and can be used repeatedly at many different shows and events. So this affordability makes them suitable for small businesses, startups, and organizations with limited marketing funds.
Roll Up Banner Stands Make An Impact On Your Customers
The banner stand displays allow for impactful visual communication. High resolution pictures, bold and concise text and compelling images can convey messages to promote your products and services. So this is especially important in crowded trade show venues where grabbing attention is a must. The retractable banner stands can be used as reference during the communication period with your potential clients.
While pop up banner stand displays offer numerous advantages over the competition. There are a few considerations to keep in mind. The sign graphics need to be high resolution images and your text needs to be easily readable. The vibrant colors should line up with your product or company colors as well.
Stand up banner stand displays are versatile, portable, and cost-effective tools for promoting businesses and conveying messages. Their ease of setup, easy customize ability and visual impact make them an great choice for getting attention at events and shows. So your Local Las Vegas sign company will have more information on these banner stands.