Pull up banner signs Vegas are favored by many businesses who display at the various events and shows in Las Vegas. These businesses like the pull up banner stands. Because they are compact and are self standing. So the companies will place a couple of these roll up banner stands at the front of their display booths. So as to get the attention of people walking by. They will print pictures of their products and services on the banner stand graphics to get attention. So then the people will stop and look. And give the sales people the opportunity to approach them.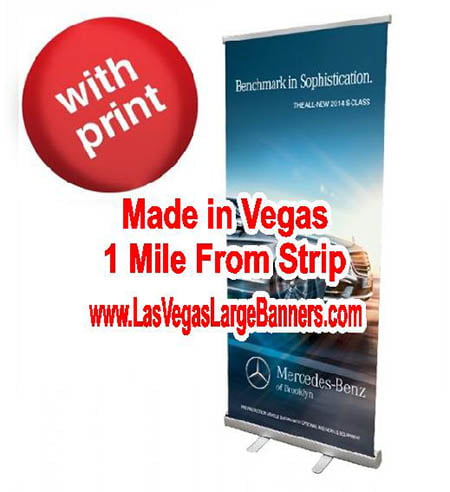 Pull Up Banner Signs Vegas Come In Many Sizes
Las Vegas retractable banner stands come in many sizes to meet your marketing needs. The sizes generally range from about 2ft wide to around 5 feet wide. The banner stands all come with hardware, carry case and a full color print. The full color print allows for any colors to be printed on the banner graphic along with pictures and logos. The most widely chosen banner stand is the economy 33 x 78 banner stand that offers about 17 square feet of printing space. So that is a lot of room for text and pictures. So since the banner stands pull straight up, they do not require a lot of space when exposed.
Other popular sizes include the 36×92 deluxe banner stand and the 33×80 deluxe banner stand. Both the deluxe banner stands have a wide chrome base that looks most impressive. Because of the amount of business that the events and shows bring, same day banner stand signs is common. So just ask your local sign company in Las Vegas for additional information. These sign shops can be found near the event centers and Las Vegas Blvd.