Pop up displays Las Vegas are in big demand during the busy trade show and convention season. This event season generally runs from about November through April. But with covid the trade show event season has been extended year round. The trade show season started out slow in 2022 but keeps going. So far there have been hundreds of events and shows this year. This has attracted thousands of vendors and companies who are displaying their merchandise at the venues. Popup banners and popup banner signs are popular at these events. So since space is a commodity in the tradeshow display booths, these popup signs work great. They take up little space and you can set the signs up.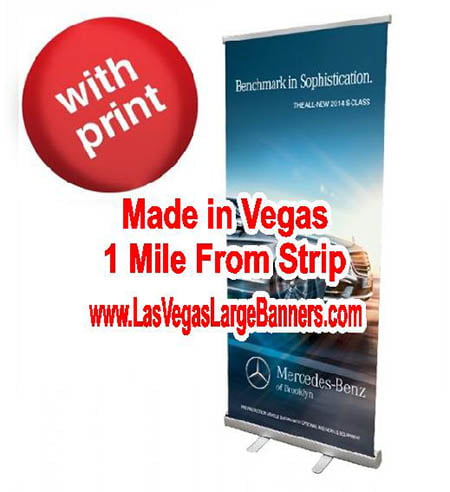 Pop Up Displays Las Vegas Include The Popular Retractable Banner Stands
Las Vegas tradeshow banner stands are one of the most popular sign graphics at event venues. The companies like using these pull up banner stands becasue they are self standing. So they also take up very little room since they pull straight up and are self standing. The retractable banner stands can be placed anywhere. No expensive union labor is needed to set them up. You can walk right into a convention center and set them up yourself in a minute or so. The banner stands come in many sizes to meet your marketing needs.
Tradeshow pop up sign displays can also be those backdrop banner displays. These popular 8ft backdrop display and 10ft backdrop display sign are easy to set up and can be used multiple times. If the marketing message is changed. You can simply just order another fabric banner to fit over the popup frame. This fabric banner can be purchased at a reduced price instead of having to buy a whole new trade show popup display.