Pop up banner stand displays are one of the most popular signs being used at Las Vegas trade shows. These portable banner stands are easy to set up and look very impressive. In today's competitive business environment, marketing is crucial for any company's success. One of the most versatile and popular tools in the companies marketing schemel is the pop-up banner stand display. So these portable banner stand displays are designed to capture attention, convey your marketing message and create a brand awareness at events and shows.
Retractable banner stand displays are known for their ability to get attention and distinguish your company at events.So the visual stimuli of the banner stand graphics makes the potential customers take notice of your company at your event. Getting noticed is a key factor in having a successful event. With vibrant colors, high-resolution graphics and a clear and concise marketing message will have a positive outcome. Pull up banner stands can let people take notice of you from a distance. So thus making them an ideal choice for Las Vegas trade shows, conventions and events.
One of the most popular characteristics of retractable banner stands is their portability and ease to set up. These displays are designed to be lightweight and easy to transport. All the pop up banner stands come with a carrying case to make transporting them easy. They can be assembled and disassembled quickly and take only a minute or so to do so. This easy set up capability makes them a great choice for businesses that do many trade shows and conventions.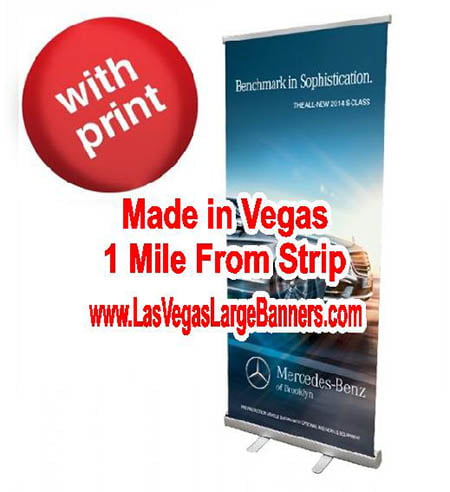 The Trade Shows Love These Pop Up Banner Stand Displays
Roll up banner stands are highly versatile and can serve in various marketing capacities. So they can be used to showcase new products and service and promote special offers. These retractable banners can also help brand your company. So whether placed in a retail store or at a trade show booth. These sign displays can adapt to different environments and assist in different marketing strategies.
Pop up banner stands are a cost effective solution for signage at your event. They offer a great value for your dollar and are a excellent return on investment. Many mom and pop companies attending the trade shows and conventions use these cheap banner stand signs to compete with bigger companies. The initial investment is relatively low and the stands last a long time. The pull up banner stands can be used multiple times. So thus allowing them to be used repeatedly at a single purchase price.
Banner Stands Are Customizable And Come In Different Sizes
Customization of your banner stand signs plays allows for effective marketing. So these pop-up banner stand displays offer ample opportunities for businesses to tailor their message to the intended audience. The high quality pictures and clear and concise text allow for easy reading and an effective sign.
The roll up banner stands are easy to set up. They only take a minute or so and can be moved easily. They are self standing and require no attachment to anything to be displayed. The take down is fast and can be also performed in a minute or so. All the banner stands come with a carrying back to make transporting them easy.
Pull up banner stand displays are a versatile and effective marketing tool. The retractable banner stands offer compact portability, versatility and cost-effectiveness. The pop up signs come in many different sizes and shapes. So contact your local Las Vegas sign company today for more information on these great low cost signs and see how they can help your event.