Pop up banner display are being used at the various events in Las Vegas. These popular popup banner stands are cheap in price and easy to set up. So add in the fact that they are self standing and you have a winner. The pop up displays come in many sizes.
Millions of people come to participate in the events and shows held in Vegas. The big companies of the world show case their new product lines at these events and line up buyers. So many signs and banners are needed at these events. Las Vegas is known to be the trade show and convention capital of the Unites States. While people generally recognize Vegas for being a gambling mecca, Vegas is just so much more. Las Vegas has three very large convention venues. These convention venues have over one million square feet of space. And one has close to two million square feet of space. Hundreds of companies and vendors attend these events to display their products.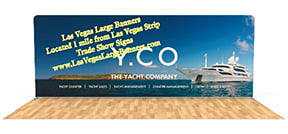 Pop Up Banner Displays Can Be Ordered and Picked Up In Las Vegas
There are many Las Vegas sign shops that cater and service the trade shows and conventions. These sign shops are generally located near the convention venues and Las Vegas strip. So this allows for easy pick up or delivery of your signage for your event. So these sign shops specialize in getting you your tradeshow signs and convention signs fast and at the best price. Most companies and vendors prefer to have their signs made in Vegas and then simply picked up here. So this avoids expensive shipping charges and the risk of your signs and banner not showing up at all. Or maybe showing up damaged.
Local Vegas sign shops have the capability to manufacture signs and banner same day if things do go wrong.