Las Vegas vertical banner stands are being a lot at the many events and shows happening in Vegas. So partly because the retractable banner stands are self standing. These signs do not need to be attached to anything for support. So they can be placed anywhere. Also they are used a lot because they can allow for a large sign. The most popular Las Vegas retractable banner stand is the 33″ x 78″ stand. So this retractable rollup banner has about 17 square feet of printable space. That is much space for people to printing their marketing message or print their products.
The roll up banner stands come with a full color print. Meaning you can print as many combination of colors on your banner stand sign as you like. So this also includes the printing of images and pictures. It is important to remember that these banner stand signs will be looked up at close range. So top quality images are recommended. As these pictures will reflect upon your company and products. Clear and concise text is also advised. Using a legible font makes reading of your pull up banner stand easier for people. So attendees get tired at these trade shows. So it is important to make it easy on them and make your signs simple and enjoyable.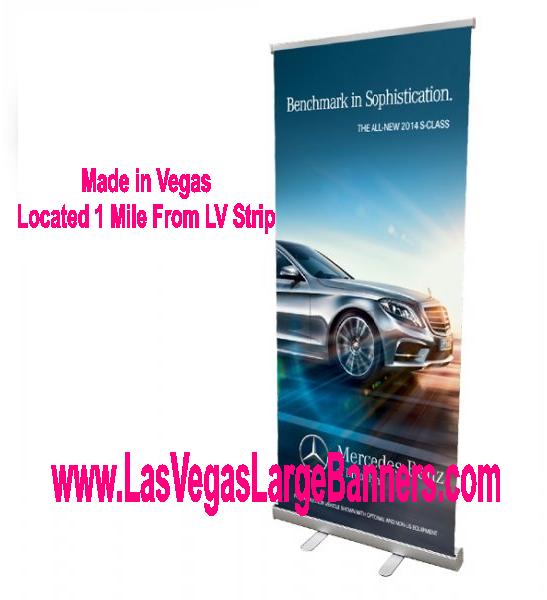 Las Vegas Vertical Banner Stands Are Great For Convention Venues
Retractable banner displays are perfect for the Las Vegas convention and trade show venues. These portable banner signs can be placed anywhere in your display booth. The banner stands come in many different models ranging from about two feet wide to around four feet wide. The rollup banners come in different heights and either in a premium or economy version. The premium banner stands have a wide chrome base that is very impressive. The economy stand is basically the same without the fancy chrome base. The banner graphics can be printed with a smooth anti curl banner or a 13 ounce vinyl banner. Both these options have pluses and minuses.
The standard banner stand is the 33″ x 78″ model that sells for around $125.00 Same day retractable banners are also available in many cases. Banners and signs get lost or damaged all the time. So the signs need to be replaced quickly and at a low cost. Same day signs and same day banner stands are available at many of the modern sign stores in Las Vegas. These modern sign shops can generally be found near the convention venues. As this allows for fast pickup or delivery of the convention signs.
Conclusion
Many of the companies and vendors from around the world will simply order their trade show signs from a Las Vegas sign company. So it save a lot of money on unnecessary expensive shipping. it also allows or guarantees your signs and banners will be in Las Vegas when you are. So often trade show signage gets damaged while being shipped into Las Vegas by careless shipping companies. Your Las Vegas sign company will be able to answer more questions regarding the sign turnaround times. Give them a call today and see how banner stand signs can help deliver your marketing message.