Las Vegas stand up banner signs are used extensively at the various Vegas convention venues. Vendors love these economical retractable banner stands. The banner stands are self supporting. So they can be placed anywhere. Also, the banner stands are quite large and can have a lot of information printed on them. In Fact, you can take a large graphic and divide it up. Apply it to 3 or 4 banner stands and then place the stands next to each other. This then appears to be one large graphic.
The conventions attract millions of people from around the world. So, many signs and banners are needed for these events. In many cases, the signs and banners need to be printed quickly. Because often signs get lost or damaged. Also marketing strategies change and new signs are needed. Same day banner stand printing is available in Las Vegas at 5 star Yelp Sign Shops.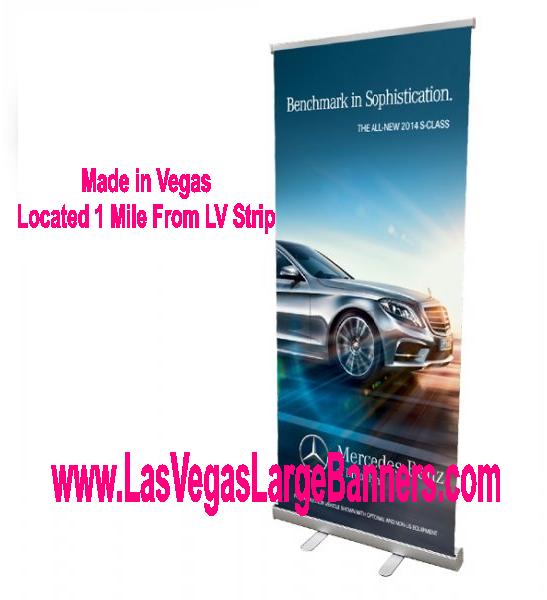 Stand Up Banner Signs Are Available in Many Different Sizes
The wildly popular retractable banner stands come in many different sizes to meet your sign needs. They range from around 24″ wide to the larger 45″ wide banner stand model. The height are adjustable. So they can range from around 40″ tall to around 78″ tall. The economical 33 x 78 banner stand is the most popular size. The price is around $125.00 for this model. The slightly large premium model sells for around $165.00. its measurements are 33″ wide by 80″ tall.
All banner stands come with a carry case. So the roll up banner stands can be transported very easily. Also, the quality of the banner stand allows it to be used multiple times.
Banner stand signs can be found at local Vegas sign stores. The sign stores located near the convention venues service the conventions and trade shows. They will have state of the art sign making equipment to make your convention signs fast.