Rush order banner stands are sometimes needed. Many times at conventions signs get misplaced or damaged. So banner stands and other signage need to be replaced quickly. Therefore, people rely upon 5 star Yelp rated sign shops to find the right sign company.
If you find yourself with missing sign graphics, local Las Vegas sign shops can help you. Sign shops with printing machines are located near the convention venues. These sign shops have state of the art printers. So your retractable banner stands can be printed fast with the highest quality.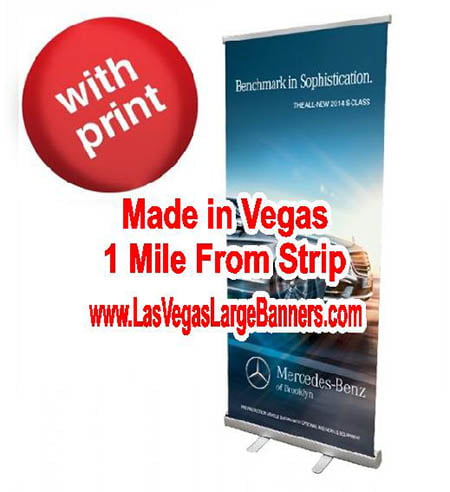 Rush Order Banner Stands Are Not Expensive.
The local sign shop can make them the same day if they are not busy. So, usually there is no extra fee involved. If the sign shop is busy. Work will have to be rescheduled and there may be a charge for that service. Each sign shop is different.
Retractable banner stands come in a lot of sizes to choose from. So the most popular purchased banner stand is the 33″ wide x 78″ banner stand model. This economy retractable banner stand model sells for around $125.00. Also, a premium banner stand about the same size sells for around $165.00.
Banner stands come in sizes two feet wide up to 4 feet wide. With heights up to around 92″ tall. Also, these banner stands can be printed on a 13 ounce vinyl banner material. Also, they can be printed on a anti curl banner material.
Same day retractable banner stands easy to find. Search Google on the internet to find a Las Vegas sign shop near you. Many people attending the conventions or trade shows prefer to have their signs made locally. So it is much easier to pick up a sign than to ship it across country. Have a great convention.