Las Vegas retractable banners are upright banner stands that roll up into a compact casing. These upright banner stands are well liked at conventions and trade shows. Because they are compact and easy to set up. The set up time is less than one minute. Also the retractable banner stand signs are self supporting. So they can be placed anywhere because they are a self standing graphic display.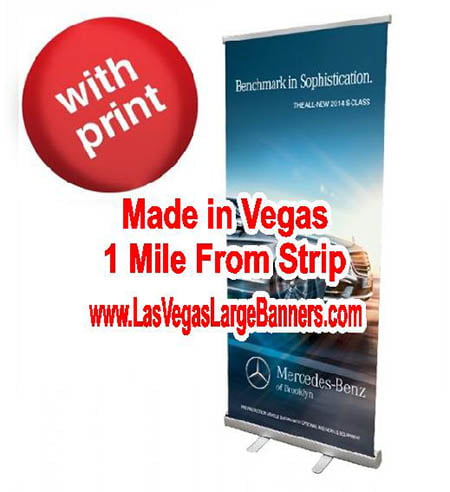 Las Vegas Retractable Banners Come in Different sizes to Match Your Marketing Strategy
Retractable roll up banner signs come in a variety of sizes. The most popular size is the 33″ wide banner stand model that stands 78″ tall. Its twin, the premium banner stand comes in a 33″ wide by 80″ tall. The premium model has a wide chrome base that is very impressive looking. So other popular banner stands are the 36″ x 92″ banner stand and the 45″ x 78″ banner stand. The banner stands also come in double sided banner stands and the 24″ wide banner signs.
The double sided banner stands allow for the sign to be seen from the back and front upon approach. They make for great directional signage. All these different types of Vegas banner stands come with a carrying case. So this allows for easy transport to the event venue. The set up of the signs is also every easy. As it only takes a minute or so to set up a banner stand display.
All these vertical banner stands come with a full color graphic print. So this means you can have as many colors on the banner print as you like. Also you can have logos and pictures printed on the banner graphic as well at no additional cost. All banner stand signs come with a free carrying case. So that allows for easy transport from event to event.
Banner Stands Are Available At Local Las Vegas Sign Companies.
Same day banner stand printing or rush order banner stand signs are available at select Vegas sign companies. These sign companies have state of the art sign making equipment. They are generally found near the Las Vegas strip and convention venues. So this allows for fast pick up of your signs and banners. Also this allows for faster delivery of your graphics. Uber or Lyft offer pick up and delivery of signs and banners as well at a very low cost. Plus you can follow the driver on your phone app. The Vegas banner stands can also be delivered to your event center or hotel.