Las Vegas retractable banner printing will get you those Vegas banner stands for your event or presentation. Many business people like to use retractable banner stands as a visual prop. These compact banner displays are perfect for carrying into a meeting and setting up. When the common roll up banner stand is extended. It comes out to be about 17 square feet of printable space for a 33×78 pull up banner stand model.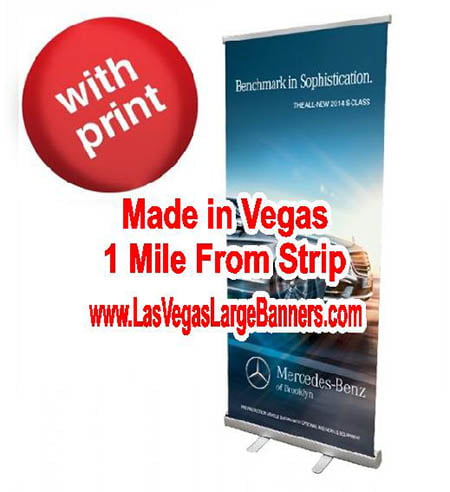 Las Vegas Retractable Banner Printing is Popular At Conventions
Thousands of vendors and companies come to Las Vegas every year to display the newest gadgetry. So these conventions and trade shows attract millions of people from around the world. The conventions drive the Las Vegas economy. Las Vegas is the number one destination for trade shows and conventions in the United States. Every casino on the Las Vegas strip has made room available at their locations for events. But there are three very large convention venues with over one million square feet of floor space. These convention venues are state of the art. So because of their size they are capable of hosting multiple events at one time.
So Las Vegas retractable banner stands are one of the most popular sign graphics at these events. The banner stands are self standing. So that means they can be placed anywhere for display. The pull up banner stands also come in many different sizes to accommodate marketing needs. These sizes range from around 24″ wide to around 57″ wide. The banner stands also come in deluxe and economy versions and different height.
Your local Las Vegas banner stand store will have more information on these wonderful sign displays. Same day Las Vegas banner stand printing is available in many cases. Sign shops realize things happen and signs and banners need to be replaced quickly and at a low cost.