Las Vegas pullup tradeshow banners are portable retractable banner stands that are well liked by the vendors and companies. These Vegas banner stands can be placed anywhere in a display booth because they are self standing. So the fact they are self standing. And can easily be moved makes them a favorite type of signage at tradeshows and conventions.
Banner stands Las Vegas are not expensive. You can purchase a 33×78 banner stand with graphic print, hardware and carrying case for around $125.00. These graphic prints offer a full color print that allows for images and pictures. The amount of colors printed on the banner stand is unlimited. The banner stand usually take a day or two to print and make. However, same day rush order banner stand signs are available in certain cases. Las Vegas is host to hundreds of events and shows a year. So many signs and banners get lost and need replacing at the last moment. Also a change in marketing strategy requires new signage. Las Vegas sign companies realize this and have state of the art printers that print very fast. Also with the highest quality. The inks used are ecologically friendly and are long lasting.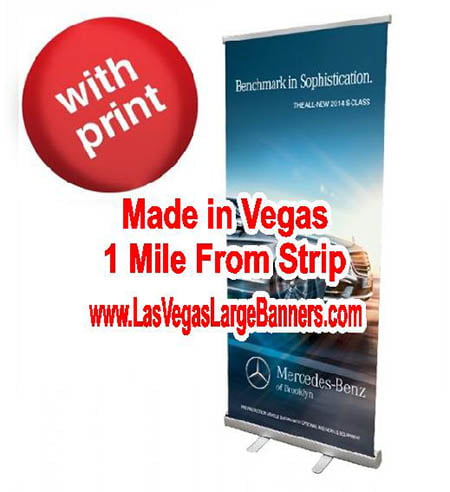 Las Vegas Pullup Tradeshow Banners Come In Many Sizes
The roll up banner stands come in a variety of sizes to meet your marketing needs. These sizes range from about 24 inches wide to around 60 inches wide. The heights of the banner stands are about 78″ to 92″ . Deluxe retractable banner stands are also available. These deluxe banner stand signs offer a wide chrome base that looks very impressive. So all the banner stands come with a telescopic height adjustment pole that allows you to set the perfect height of your sign graphic.
Contact your local Vegas sign company today for additional information on these Las Vegas retractable banner stands. Sand see how they can help your display at the events and shows.