Las Vegas pullup banners are a great sign for conventions and trade shows in Vegas. Las Vegas is the king of conventions. So Las Vegas attracts millions of people annually for these events. Hundreds of vendors and companies from around the world come to Vegas to display their products and services.
The people displaying at these events love these portable retractable banner stands. The banner stand signs can be moved around because they are self standing. The stands also come in a variety of sizes to meet your marketing needs.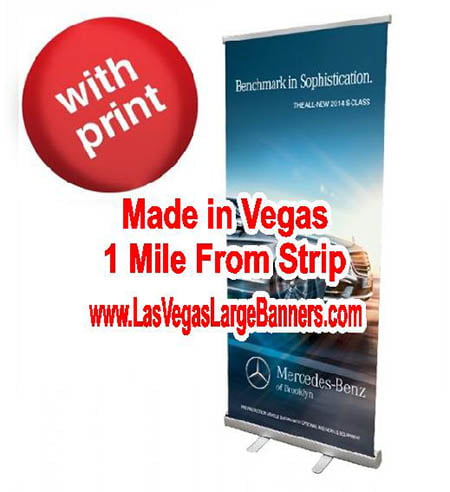 Las Vegas Pullup Banners Are Popular at Conventions
Retractable stand up banners are one of the most popular sign graphics at events and shows in Vegas, Because they come in many sizes and are very compact. The vertical banner stands are easy to set up and take down.
The banner stand graphics can be full color. So this means that your sign graphic can be any color or combination of colors. So additionally pictures and logos can also be printed on the roll up banner stand sign. Each banner stand comes with a full color print, carrying case and telescopic pole. So the telescopic pole allows for height adjustment of the sign graphic. This allows for the perfect fit of the graphic on your banner stand sign. The banner stands can be used multiple times at a variety of events.
Same day banner stand signs are also available. So if you find yourself at an event without signage for a variety of reasons. A new pull up banner stand can be made the same day in many cases. Your local Las Vegas sign store will have further information about same day sign printing. Many times same day banner stand printing is the same cost as standard turnaround time on banner stands.