Las Vegas pullup banner printing is needed for those Las Vegas retractable banner stands. These pull up banner stands are very popular signage at the event and show venues in Las Vegas. The retractable banner stands are portable and can be placed anywhere. So the banner stands are self supporting and easy to set up.
Vendors and companies displaying at the convention venues like these banner stands. As they can be used several times for different events. So they are also cheap enough so that they can also be used for one event and then simply thrown away.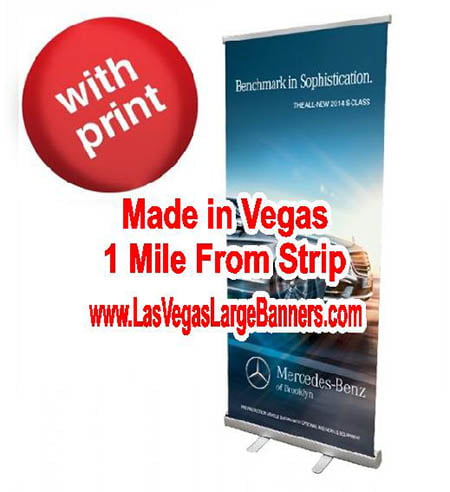 Same Day Las Vegas Pullup Banner Printing is Available
Las Vegas same day retractable banner sign printing is available in many cases. There are sign shops in Las Vegas that cater to the event venues and have state of the art printers. So these modern printers can print very fast and at very high quality. The special inks used allow for bright and vivid colors. So the inks are also environmentally friendly and ecologically sound. The inks can be used both indoors as well as outdoors.
So the most popular retractable roll up banner stand is the 33″ wide x 78″ tall model. This economy banner stand comes with a telescopic pole for height adjustment and a carrying case. The graphic print can be full color and have pictures and logos printed on it as well. The carrying case makes for easy transportation from event to event. These roll up banner stands come in many different sizes. So these sizes range from about 33″ wide to about 57″ wide with different heights. All offer a full color graphic with carrying case and telescopic height adjustment pole.
Contact your local Las Vegas banner stand store for more information on these great sign graphic displays.