Las Vegas premium banner stands are used to impress clients. These retractable banner stands have a big chrome base that looks very professional. The premium roll up banners stands are self standing and can be set anywhere because they are self standing. So they are easy to set up and take down and can be used again and again. The banner stands are used extensively at the many trade shows and conventions held in Las Vegas. Hundreds of trade shows and events are held yearly in Las Vegas. These events attract the biggest corporations in the world that display their products at these events. So millions of people attend these events to see the new innovations in their industry. Many signs and banners are needed for these events. The pull up banner stands are one of the most popular types of signage.
The banner stands Las Vegas come in a variety of sizes to meet your advertising and marketing needs. These sizes range from around 24″ wide to around 57″ wide. These banner stands come in varying heights. Best of all the stand up banner stands come with a telescopic pole that allows for height adjustment of the banner graphic. So this allows you to adjust the banner graphic to that perfect fit on your sign stand.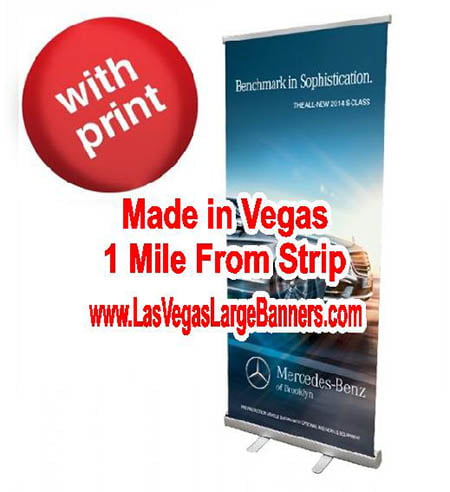 Las Vegas Premium Banner Stands Are Not Expensive
The premium roll up banner stands are a great deal for the money. So they are very popular for this additional reason. So the banner stands Las Vegas can also be made fast if necessary. Many times signs and banners get lost and need to be replaced quickly. So fortunately there are several Las Vegas sign shops that cater to the trade shows and conventions. These sign stores have modern sign printers that can print fast and with excellent quality.