Las Vegas exhibition banner stands are widely used at exhibition and events. The companies displaying at these exhibitions love the portability of these banner stands. So the portable banner stands can be placed anywhere. Because they are self standing and require no support to be displayed.
Las Vegas banner stands come in many different sizes to meet your marketing needs. These banner stand sizes range from about two feet wide to around five feet wide. So the banner stands have heights ranging from around 78″ tall to around 92″ tall. So that is almost 8ft tall ! The retractable banner stands come in economy and deluxe versions. The deluxe versions all have wide chrome bases that are very impressive looking. All the banner stands come with a full color sign graphic. So this means you can have pictures printed on your sign graphic and use as many colors as you like. The sign graphics can be printed on vinyl banner material or anti curl banner material.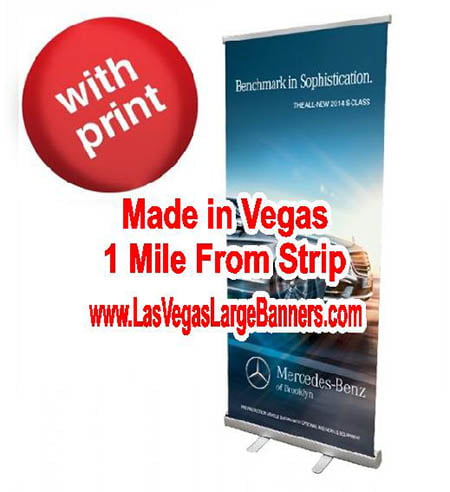 Las Vegas Exhibition Banner Stands Are Not Expensive
The most common exhibition retractable banner stand is the 33 x 78 banner sign. This banner stand has about 17 square feet of printable space. So it has plenty of room for pictures and text. The banner stand sign comes with graphic, hardware and carrying case. The banner stand is made to last and can be used several times. This is also true for tradeshow banner stands and convention banner stands. These portable pull up banners are very popular at events. They are cheap and easy to set up.
Check with your local Las Vegas banner stand company about getting these great visual signs for your next event. It only takes a day or so to get your banner stand signs printed and ready for you.