Las Vegas convention banner stands are made right here in Las Vegas. These popular convention signs are used quite frequently at the many Las Vegas conventions. There are hundreds of conventions and shows held in Vegas every year. These shows attract millions of people from all over the world. So they also attract many vendors and companies who display the newest products. Many convention signs and convention banners are needed for these shows. So many of the companies prefer to have their roll up banner stands, foam board signs and Vegas banners made locally. This allows for a savings of money as the Vegas signs and Vegas banners do not have to be shipped in. And we all know the cost of shipping packages has gone though the roof after covid.
Vegas banner stands come in many different sizes to meet your convention sign needs. These pull up banner stand sizes range from about 2ft wide to all the way to around 5ft wide. The retractable banners all have telescopic poles for height adjustment. So this allows the banner graphic to be set for the perfect display. The inferior banner stands have a tent pole system that makes it mandatory that the graphic be one height. So the telescopic pole allows for banner graphic adjustment. It is a favorite among people that use a lot of banner stands.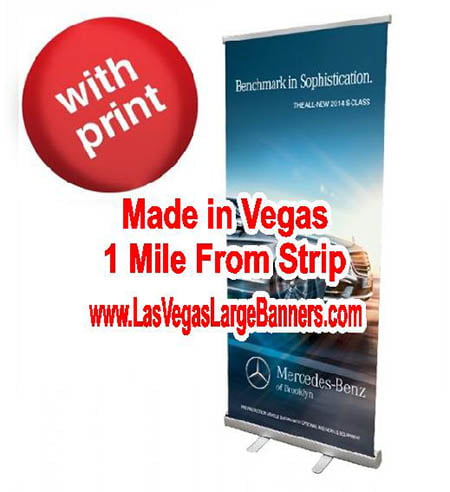 Las Vegas Convention Banner Stands Are Not Expensive
The most popular retractable banner is the 33×78 banner stand. This banner stand sign costs around $125.00 for a full color banner graphic, hardware and carrying case. So the full color banner graphic allows for all colors to be printed on the sign along with pictures and images. The turnaround time is usually just a day or two. Same day banner stand signs are also possible in many cases.