Fast rollup banner stands Vegas are necessary when you are at a Vegas convention venues and have no signs. So many times companies will ship their signs and banners into Las Vegas for an event. Unfortunately the signs and banners show up late or damaged. So in these cases, the signs need to be replaced quickly. Since retractable rollup banner stands are one of the most popular types of displays. They seem to get lost or damaged all the time.
Same day banner stand sign printing or rush order banner stand signs are available at Vega sign shops. These sign shops are ones that cater to the convention and trade show industry. They are generally located close to the convention venues. So these Las Vegas sign shops have state of the art sign printers that can print fast and cheap.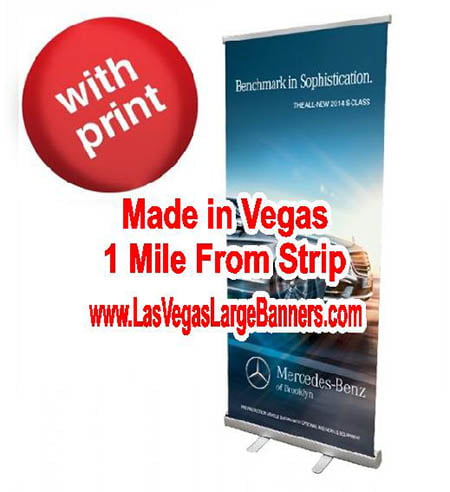 Fast Rollup Banner Stands Vegas Come In Many Sizes
Retractable banner stands come in many sizes. The most popular banner stand display is the economical 33×78 banner stand that sells for around $125.00. The deluxe version is the 33″ x 80″ retractable banner stand that has a wide chrome base. The chrome base is very professional looking and will impress your clients. So banner stands come in sizes ranging from around 33″ wide to around 45″ wide. Along with heights to 92″ tall. That is almost 8 feet tall ! The banner stand graphics are full color. And pictures and images can be printed on the banner stand signs as well.
Same day rollup banner stands are also available in many cases. So if your retractable banner stands were lost or damaged they can be replaced quickly. Las Vegas has many sign shops with fast sign printing machines. The newer large format printers have never printed so fast and with high quality than ever before.