Fabric popup displays Las Vegas are being used for trade show backdrop signs at the conventions and trade shows. These fabric pop up displays are easy t set up and can be used many times at different events. Since you are able to walk into a convention with these backdrop displays. So no expensive union labor is necessary to set up your signage. The trade show fabric displays are easy to set up and you can do it in just a few minutes.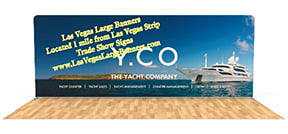 The Fabric Popup Displays Come in Many Sizes
The 20ft fabric pop up displays are very popular at convention booths when you have a lot of room. These 20ft long convention backdrop displays make for an excellent sign for the back of your display booths. These signs also come in the 8ft fabric pop up display and the 10ft fabric pop up display. All of these backdrop pop up displays come with a full color graphic and carry bag. The bag allows for all the hardware and graphic to fit in a nice easy to carry travel bag. So this allows for easy transport from one event to the other. So it also allows for the whole assemble to travel together so nothing gets lost.
Best of all the hardware allows for the fabric graphic to be replaced at a reduced cost. So if you need another type of sign for the next event. You do not have to buy the whole assembly.
The popup fabric graphic is a full color graphic. So this means you can have as many colors or pictures printed on your graphic as you like. The fabric banner is machine washable. So it will always look new and fresh at every event and show. Your local sign company in Las Vegas will have more information on these great tradeshow signs.